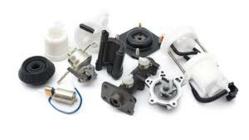 These parts are offered in preowned condition and are checked for quality prior to fulfillment.
Oklahoma City, Oklahoma (PRWEB) May 30, 2013
Audi is one example of a foreign automaker that has maintained its luxury profile in the United States. This company has distributed its vehicles in the U.S. market since the 1980s. The AutoProsUSA.com company is now helping to make locating replacement parts an easier process for buyers. This company has added used Audi parts to its growing inventory. These parts are offered in preowned condition and are checked for quality prior to fulfillment. These genuine parts are now priced lower than MSRP to offer affordable ways to purchase online at http://autoprosusa.com/used-audi-car-parts-for-sale.
Import automakers that have manufacturing facilities in the United States typically provide vehicle service through dealerships. New vehicle owners are often treated to a full vehicle warranty that is designed to provide replacements for parts that deteriorate or malfunction during the warranty period.
Owners of preowned vehicles for brands like Audi could struggle with finding a part that is in the desired price range of domestically produced parts. The discounted prices that are now published online by the Auto Pros company is expected to create more demand in the company inventory of foreign made parts for sale.
The installation and use of the new price quotation tool online is now helping parts buyers to produce instant price comparisons. Because this company uses more than one supplier for fulfillment, the types of pricing that is offered can change between companies.
The AutoProsUSA.com website now features the sophisticated quote tool that is able to generate more than one price quote for each auto part in stock. These prices are delivered directly to buyers through text messaging, online or by email. These methods of delivery are helping to change the way that price comparisons are made.
The involvement of more suppliers this year has created a larger inventory that is promoted by the AutoProsUSA.com company online. The news announcement made at http://www.seattlepi.com/business/press-releases/article/Salvage-Yards-in-San-Diego-Now-Selling-Parts-at-4533056.php was used recently to announce the different salvage companies now supplying parts inside the company database.
New arrangements with yards in California, Texas and New York have been made this year to provide a better inventory of preowned parts that buyers can purchase online or offline. The practice of using third party order fulfillment is expected to continue through the remainder of the current year.
About AutoProsUSA.com
The AutoProsUSA.com company now promotes its database of thousands of parts in all areas of the United States. This company has reached better distribution agreements this year that have helped expand the sales volume made. The preowned parts that are listed for sale are now sourced from top distribution companies that helped to keep the company inventory listed with bargain pricing. The AutoProsUSA.com company creates policies that are designed for all customers to benefit when using this company as a parts resource center online. Expedited shipments, rapid quote delivery and parts evaluations are among the customer incentives put in place for all orders.