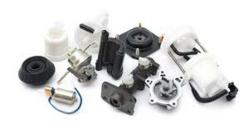 The Auto Pros company has expanded its parts warranties attached with each sale for a period of up to two years in length.
Atlanta, Georgia (PRWEB) May 07, 2013
Replacement parts for vehicles are traditionally purchased from automotive dealerships when vehicle owners have warranty protection. Preowned vehicle owners can have difficulty locating replacement parts due to shortages and higher than standard pricing. The AutoProsUSA.com company has now lowered the purchase price of its used auto body parts in stock. These parts are offered to junkyards, vehicle owners, warranty companies and others currently buying parts online. The body parts now in stock can be searched online at autoprosusa.com.
Exterior parts for vehicles are produced by automakers for direct installation into new vehicles. Manufacturers of parts supply distribution companies to make parts available for sale to retailers. Shortages for some vehicle types can be one of the factors that buyers of parts find when performing research.
The import and domestic inventory of auto body parts now lowered in price online are providing more resources to purchase in stock inventory. The new and classic part types that are offered for sale are designed to help more exterior parts buyers.
Buyers of used auto parts can have difficulty locating warranty protection. The types of parts that are offered in preowned condition online can vary in quality and in warranty term lengths. The growth of auction based websites now selling auto parts is providing lower pricing to some buyers although warranties are not always included for buyers. The Auto Pros company has expanded its parts warranties attached with each sale for a period of up to two years in length. These warranties are now packaged with all sales made from the company website or toll-free ordering system at no extra charge to buyers.
Buyers using the AutoProsUSA.com company for online purchases now have access to the updated company search system. This system now provides immediate access to the company inventory as well as the current pricing structures. The discounts and other incentives that are provided by this company are instantly displayed using the search system. Price quotes for any part in stock can be obtained online or through the alternative toll-free number system offline. This quote system remains a popular tool on the company website.
About AutoProsUSA.com
The AutoProsUSA.com company discounts its complete company inventory of parts for sale to supply more buyers in the U.S. with affordable replacement parts. This company acquires its inventory of parts from leading distribution companies in the automotive industry. The parts system now in place online offers easy matching of parts and pricing before sales take place. The AutoProsUSA.com company offers warranties for each of its in stock inventory of parts to extend the protection that buyers often search for when purchasing replacement parts. This company frequently announces incentives and updates to its current policies for all parts buyers online.