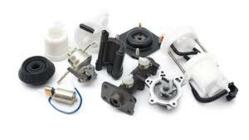 Due to the large number of vehicles produced each year, some retailers are unable to stock replacement parts requested by buyers.
Omaha, Nebraska (PRWEB) June 03, 2013
The purchase price of a new vehicle traditionally includes protection for parts breakdown in the form of a warranty. A person who owns a preowned vehicle with no warranty can struggle with finding quality resources to find auto parts in areas of the country with limited resources. The AutoProsUSA.com company has reached new agreements with salvage companies to provide used auto parts in Omaha, NE to parts buyers. These companies are offering preowned parts and accessories at http://autoprosusa.com/used-auto-parts-in-omaha-ne to ensure pricing and delivery remain competitive for Midwest vehicle owners.
Distributors of auto parts supply chain retail stores, warehouse super centers and local companies specializing in parts sales to the public. Due to the large number of vehicles produced each year, some retailers are unable to stock replacement parts requested by buyers.
Retailers typically purchase from out of state distributors in periodic segments to supply a majority of the most common parts for replacement. Ignition systems, transmissions, engines, transfer cases and other integral parts are now included in the used parts supplied in Omaha and surrounding cities by the Auto Pros USA company.
The increase of supplier relationships has helped to strengthen the inventory numbers that are now listed in the AutoProsUSA.com database. This company now works closely with hundreds of suppliers around the country to supply the parts requested most often by buyers.
To speed up parts location, this company has enabled a new quote system online able to provide instant price quotes for the inventory available. While this system is accurate in price, it also provides comparison quotes from multiple suppliers in different states. This pricing structure is offered to buyers to ensure that the lowest rates are obtained upon purchase.
One of the new ways used by the Auto Pros company to market its parts database to buyers and sellers is with streaming videos online. The creation of these videos has created new interest in the company website. A separate YouTube channel has been launched to serve as the main channel for uploaded company videos.
These videos provide informative data for many of the parts currently in stock and describe the ordering process for customers. One of the latest videos can be viewed at http://www.youtube.com/watch?v=Q3Zxh_s6wUY and new videos are currently in production. This video series is one method of marketing that is scheduled to continue to increase the exposure now achievable online.
Salvage companies in Omaha or in other cities and states in the U.S. interested in supplying parts through this company can now use the following information to make contact:
Auto Pros USA
1270 Crabb River Rd.
‪Richmond, TX 77469
(888) 230-1731
(713) 560-7017
About AutoProsUSA.com
The AutoProsUSA.com company has now built one of the largest secondary market auto parts databases currently in use on the Internet by buyers in North America. This company staffs each department with experts in the automotive business to ensure that every customer receives expected levels of customer service. The company website now serves as the main way to receive price quotes and information for parts in stock. The AutoProsUSA.com company negotiates incentives like warranty policy inclusions and shipment price decreases to help buyers to find the most affordable ways to own the parts that are listed for sale online.