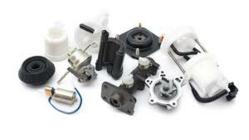 This parts coverage is one way that the Auto Pros company is supplying higher customer service values to customers.
Jacksonville, Florida (PRWEB) April 21, 2013
The used auto parts industry has grown for more than three decades due in part to the increase in preowned vehicle use in North America. Automotive engineering is helping vehicles to remain on the road for longer periods of time before failure. The AutoProsUSA.com company is expanding its vendor network online. Used auto parts in Jacksonville, FL vendors are now listed for buyers to use. These local parts distributors are part of a company wide enhancement on the Auto Pros website at http://autoprosusa.com/used-auto-parts-jacksonville-fl.
Manual research is typically required when vehicle owners or parts installation companies require a replacement part. The legwork that takes place to find a new or classic part could result in errors due to inventory mistakes.
The enhanced company database vendors in the Jacksonville area is designed to allow local vehicle owners and parts installers to use the system to produce immediate results for import and domestic vehicle auto parts. This database provides access 24 hours a day.
The AutoProsUSA.com company has continued building its inventory offerings in 2013 and has recently announced the growth of its online parts for sale. Aside from used and rebuilt parts in stock, this company has now added aftermarket and performance auto parts for most makes and models.
This parts variety is creating a broader resource for buyers to locate parts sold on a national level from hundreds of other retailers. Price comparisons and in stock notices are immediately retrievable from the company database.
The parts that are now stocked and found through local and national vendors are supplied with warranty protection. All of the parts that are ordered through this online resource come with a level of protection that can vary depending on the type of part that is ordered. This parts coverage is one way that the Auto Pros company is supplying higher customer service values to customers.
About AutoProsUSA.com
The AutoProsUSA.com company is a leading resource to find auto parts online. The different types of parts that are offered by this company are helping more buyers in North America find parts faster and without traditional processing delays. The price structures adopted by this company help to lower the MSRP pricing charged by other retailers. The AutoProsUSA.com company has created a same day policy for all orders to ensure that parts are delivered on time and in flawless condition. This company is staffed by experts working in the automotive industry.