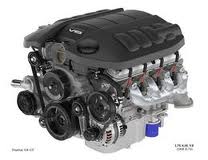 These motors are OEM replacements and require no modifications by buyers during an installation.
Baltimore, Maryland (PRWEB) April 30, 2013
The Buick brand is one example of a vehicle series that helped to build the reputation of General Motors worldwide. Millions of this brand have been sold to buyers with confidence in the GM brand of vehicles. The UsedEnginesSale.com company supplies GM replacement engines and has now added used Buick engines for sale online. These motors are OEM replacements and require no modifications by buyers during an installation. The current inventory and updated pricing can be viewed online at http://www.usedenginessale.com/buick/buick-skylark-31l-v6-engines.
The Buick brand has made use of the GM engine technologies to help power many of the vehicles sold to the public. The Skylark, Century, LeSabre, Enclave and Rainier have used versions of the V6 engine technology created by General Motors.
The development of the six-cylinder engine in the Vortec and other engine family editions has helped secure the reputation of GM for its Buick vehicles. The addition of the preowned units online is expected to help buyers locate a trusted resource for replacement motors without purchasing from a dealership.
The UsedEnginesSale.com company has made changes to its company policies this year to benefit its engine customers. These changes have been reviewed to ensure that services provided to customers are designed to provide immediate benefits. One of the changes is now applied to the warranty coverage that is applied to all sold engines. This new change provides up to two-years of extra parts protection to help prevent breakdown and premature parts failures. These changes are now in place and effective for all orders placed.
New shipment policies have been announced online recently to help more buyers to benefit when purchasing from different states. The cost of shipping can be one expense that buyers are unprepared for when buying replacement engines. The news release at http://www.kcbd.com/story/21446619/used-engines-for-sale-reduced-in-price-online-at-usedenginessalecom was used to alert the public of new lower pricing for engines online. This is in addition to the erasure of the shipment fees charged with engine orders.
About UsedEnginesSale.com
The UsedEnginesSale.com company stocks its inventory with import and domestic vehicle engines that are now distributed to all parts of North America. This company purchases its replacement engines inventory from trusted distribution companies currently supplying the automotive industry. The preowned units that are now shipped are tested and evaluated before customer sales take place. The UsedEnginesSale.com company ships its customer orders on the same day as processed to ensure that deliveries can be made faster and with more accuracy. This company frequently updates the types of motors placed into inventory.