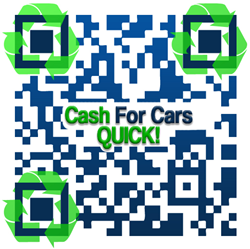 Get the cash you deserve for your used car from Cash for Cars Quick
San Antonio, TX (PRWEB) May 27, 2013
Cash for Cars Quick office in San Antonio Texas has made the employees proud by announcing its huge success in the form of first quarter earnings report for the year 2013. According to the results, this popular used car buyer, and disposal company made a remarkable leap in just a few short years. The company has grown from a small service with only a few clients to a full-fledged company making incredible number of purchases from a large number of customers. The financial report shows unaudited data confirming the profits for this time period marking a great and encouraging start to the year. The company's executives declared that they plan on using the profits to extend the services to many other surrounding cities in San Antonio so that more people could benefit from their unique and attractive services. In San Antonio, automotive waste reduction and management entered the picture only a few short time ago. A number of companies were founded during this time period to provide some sort of car disposal service to their clients so that car owners would not abandon their unwanted and inoperative vehicles. Cash for Cars Quick is one such company that has gained popularity throughout the city and also in its surrounding areas in a very short span of time. The company not only gives the best possible price for a junk car, but also offers many other value-added services to its clients. To learn how to sell a junk car in San Antonio TX or to visit the local website for the company visit, http://www.sanantoniocashforcarsquick.com
The commendable efforts of Cash for Cars Quick have been recognized in San Antonio in the context of proper and eco-friendly car disposal and waste management. The company recently came forward with its first-quarter 2013 earnings report that proved its success and rapid advancement in the industry of auto waste management. According to the financial results, the company made a huge leap from last year's earnings making it one of the most successful used car buyers in this region. The customers are happy, the partners are ecstatic, and the company's executives are extremely proud of their committed and hardworking team who made it possible to attain this level of success. Cash for Cars Quick has formed partnerships with a large number of auto recycling companies from all over the United States. The company provides a single platform for car owners and recycling companies so that they both could be of service to each other, and contribute positively to making the environment hazard and pollution free. Selling a junk car to an automobile recycling company is the best way to get rid of it because the car owner gets a good price for his or her damaged or unusable car, and the recycling company gets another vehicle to start the recycling process on.
Without a cash for junk cars San Antonio service, it would be harder for the residents to receive a good sum of cash by selling their older car or truck. It has been found that most people try to stay away from the difficult and tiresome process of selling an old or wrecked car to a private buyer. As a result, they simply abandon these vehicles on public or private property and lose out on cash. Companies like Cash for Cars Quick are working actively to stop this practice and promote eco-friendly ways of getting rid of unwanted and unusable cars and trucks.
Cashforcarsquick.com has emerged as a successful automotive waste reduction and management service in the United States. The company operates in many cities through its affiliates to provide highly tailored services to its clients in the context of proper and environmentally friendly car disposal. Many people have already benefited from the wonderful offer extended by the company in which a car owner gets the best possible price by selling an old junk vehicle instead of letting them sit and rot. For more information, visit the company's website at http://www.cashforcarsquick.com/
The auto buyer is always working on ways to advance to company's position in the city. The office uses a local SEO company to help with the cash for cars service promote their message about the importance of utilizing a reputable cash for cars San Antonio Texas Company if a vehicle owner is considering selling their car or truck. Cash for Cars Quick continues its online presence by offering an instant quote over the phone, and regularly posts auto recycling information on the company blog and social media pages. By working with a SEO company to optimize the instant pricing the company offers they hope to attract more San Antonio Texas residents looking to sell their vehicle. To read more on the company's cash for cars San Antonio TX Facebook page visit, https://www.facebook.com/CashForCarsSanAntonio
About the Company:
Cashforcarsquick.com is a growing fast cash for junk car service that offers junk car recycling and that provides a high return to the car and truck owners in San Antonio and throughout the United States. The company and its partners follow environmentally friendly disposal practices to safeguard the future of the planet. To learn more about the cash for cars San Antonio TX service visit the company website or call the corporate office.
Contact:
William Leonard
Phone: 888-862-3001
Email: info(at)cashforcarsquick(dot)com