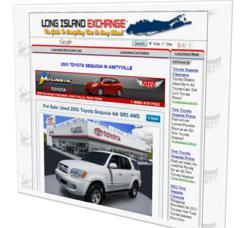 Our entire system is designed to not just provide a worth-while alternative, but a preference at just a small fraction of the cost of competing vehicle advertising venues
Long Island, NY (PRWEB) February 21, 2013
Long Island Exchange, the number one regional web portal for Long Island New York, is pleased to announce the successful launch of its new automotive search service "Long Island Auto Exchange". The service allows users on LongIslandExchange.com to search a wide range of new and used cars throughout Long Island's Nassau, Suffolk, Brooklyn and Queens's counties.
"The addition of this new service and technology offers simple, powerful and effective tools for Long Island dealerships to promote their inventory to the over 1.8 million users of LongIslandExchange.com as well as the additional visitors and traffic of our syndication partners ." said John Colascione, Founder and Publisher of Long Island Exchange Inc.
"Our entire system is designed to not just provide a worth-while alternative, but a preference at just a small fraction of the cost of competing vehicle advertising venues. The feedback we have been receiving as well as customer retention rates in just the last few months has been spectacular." he added. "We will continue to move aggressively as well as improve and expand this success until our market is no longer available to target and our users can find every possible vehicle they need on our site."
The web site has already secured relationships with 25% of Long Island's automotive dealers and is expected to reach 50% before summer months.
For more information please visit either LIUsedCars.com LINewCars.com or LIDealers.com.
About Long Island Exchange Inc.
Launched in 2002, LongIslandExchange.com is a privately owned media company providing Long Islanders with a wealth of information, news, local business data, and resources for planning activities in the area. The web site serves over 1.8 million visitors who generate an average of 4,260,417 page views per year. [*Source: Google Analytics: 08/2012]. The site has won five awards from BOLI, Best on Long Island, in best of categories like "News, Media and Publications" as well as "Best Web Site of the Year".
For more information please visit http://www.liexchange.com