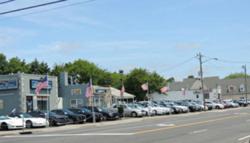 This third quarter is seeing a significant increase from buyers coming in with direct intent to finance vehicles
Copiague, NY (PRWEB) August 27, 2012
Long Island Auto Find, one of the top-ranked pre-owned car dealerships on Long Island is pleased to announce its associates are excepting record financing deals for the firm located in Copiague Long Island. The automotive dealership which is located on the busy intersection of Long Island's Montauk Highway and Hawkins Boulevard has seen an increase in loan applications near or exceeding 50% of what was seen during the second quarter of 2012.
Brian Keegan, president of Long Island Auto Find, said "April through June saw a slowing increase on used car inventory as well as financing from the first quarter, but this third quarter is seeing a significant increase from buyers coming in with direct intent to finance their vehicles. Buyer credit profiles are varied by good, bad or very little credit history; all three seem to have picked up evenly".
With similar timing, Cars.com released on its blog that auto loan delinquencies have been about "25% lower compared with a year ago", the blog stated. "Welcome news indeed; buyer interest is being supported by the easing of credit restrictions from banks, offering more flexibility for shoppers" he added.
Long Island Auto Find also increased the size of its location in the end of the second quarter, a strong signal of its growing business volume as well as the firms effort in being Long Island's used car shopping store of choice. The company owned and operated by Mr. Keegan, added space for an additional eighty (80) vehicles as well as an additional one hundred and twenty five (125) feet of highway visibility.
About Long Island Auto Find Inc.
Long Island Auto Find is a leading used car dealership on Long Island and specializes in high quality vehicles, fair prices, honesty, and top-notch customer service. Conveniently located at 1201 Montauk Highway in Copiague, NY, Long Island Auto Find offers the best deals on cars, trucks, and SUVs, as well as comprehensive trade-in programs. If you're looking for a late-model used vehicle without the pressures and hassles normally associated with used car lots, make Long Island Auto Find for your first stop; you won't regret it.
For more information please visit:
http://www.LiAutoFind.com
http://www.facebook.com/LongIslandAutoFind