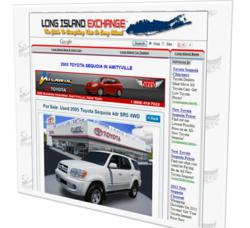 What we have done in the automotive industry here on Long Island in just the past 8 months has been nothing short of extraordinary
Long Island, NY (PRWEB) April 12, 2013
Long Island Exchange Inc., located at 1210 Montauk Highway, Copiague, has announced the recent launch of UsedCarSavings.com. This follows a recent launch of LIUsedCars.com developed specifically for advertising car dealers located within the (516) and (631) area codes covering Nassau and Suffolk County New York.
"UsedCarSavings.com will allow us to focus on what has worked so well for us here locally and expand it to other surrounding markets including Connecticut, New Jersey and beyond. " said John Colascione, Founder and Managing Partner of Long Island Exchange Inc. "What we have done in the automotive industry here on Long Island in just the past 8 months has been nothing short of extraordinary."
Brian Keegan, President and CEO of Long Island Exchange Inc referenced a client list that has "surpassed what a well-known automotive print magazine has built in over thirty 30 years of publishing" he said.
LongIslandExchange.com is well recognized as the leading city guide for Long Island residents as well as visitors to the area. The site offers credible, well edited, and monitored local information, news, free classifieds, and reporting making it the leading localized portal. LongIslandExchange.com is the most aggressively marketed, competitive digital property specifically serving the Long Island region.
About LongIslandExchange.com
Launched in 2002, LongIslandExchange.com, maintained, edited, owned and operated by Long Island Exchange Inc., is a privately owned media company providing Long Islanders with a wealth of information, news, local business data, and resources for planning activities in the area. The site has won five awards for being the best on Long Island, in best of categories like "News, Media and Publications" as well as "Best Web Site of the Year".
For more information please visit http://www.longislandexchange.com