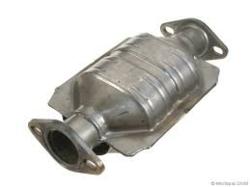 The parts listed online at the Auto Pros company are now evaluated for condition, mileage and usability before sales are made to the public.
Gainesville, Florida (PRWEB) May 21, 2013
Vehicle manufacturing in the 21st century includes better technologies developed by automakers. Better fuel economy and emissions are two of the advantages that are now offered to owners of vehicles. The AutoProsUSA.com company sells preowned auto parts and accessories online and has now established a lower price point for its used catalytic converter prices online at http://autoprosusa.com/used-catalytic-converters-for-sale. These prices are now among the lowest published on the company website for buyers nationwide.
The use of modern exhaust technology is helping to provide cleaner air due in part to EPA regulations in the auto industry. Exhaust manifolds, catalytic converters and better engine emissions are part of the new standards now in place to help benefit automotive production.The replacement parts industry is served in part by junkyards and salvage dealers that provide secondary parts to the public.
The trade-off of higher than standard mileage for a lesser price is one decision that some buyers make. The parts listed online at the Auto Pros company are now evaluated for condition, mileage and usability before sales are made to the public.
These quality control efforts are part of new policies in place to help parts buyers find alternatives to auction sellers or classified ad sales. The company website has been updated this month to include more than 100 new pages that are useful when performing research for used parts. These pages are written to inform buyers of warranty policies, parts background and overall quality.
The company website is now updated daily with new pages and other essential information to produce a larger online resource for quality information for parts buyers. Along with the new published pages, a quote system in now in place to present pricing online.
Part of the marketing that now takes place at the Auto Pros USA company is with video. Aside from the resources on the company website, third party video channels are now used to present more useful data to buyers. The video channel at http://www.youtube.com/watch?v=RsuTtVrnv6k is one example of the new resources that are now available.
Each part in stock is scheduled to receive its own video to help explain the types of parts available, current condition and how to place orders. These efforts are scheduled to continue indefinitely as one extra effort to market the company parts for sale.
About AutoProsUSA.com
The AutoProsUSA.com company has negotiated parts distribution with salvage companies, junkyards and other suppliers to help fulfill customer orders on the company website. This expanded service arrangement has helped this company to increase the size of its inventory that is now marketed to buyers in the U.S. The company staff provides customer service assistance through a new toll-free number and quotation system online serves as the method of price delivery on the AutoProsUSA.com website. Policies like warranties, faster shipments and better marketing methods are now in use by this company to reach more parts buyers.