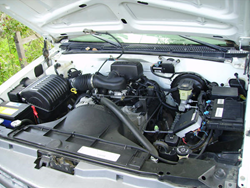 We've added more Chevy motors inventory to our database this year to provide more access the the smaller Vortec series for auto parts buyers
Los Angeles, CA (PRWEB) March 24, 2015
The Vortec family of motors manufactured by General Motors can now be purchased in used condition when visiting the Preowned Engines company website. A web discount is now available to buyers of used Chevy 4.8 engines who shop the V8 inventory that is now searchable at http://preownedengines.com/used-chevy-4-8-engine.
Trucks and sport utility vehicle parts buyers who own or repair Chevrolet or GMC brands are expected to be among the group of people who now benefit from the Internet price discounts at the Preowned Engines company. The 4.8-liter motors and the 4800 series are included in the national inventory now offered for purchase this year.
"We've added more Chevy motors inventory to our database this year to provide more access the the smaller Vortec series for auto parts buyers," said a PreownedEngines.com source.
The portal created for vehicle motor buyers in 2013 at the Preowned Engines company is now updated daily with different engine blocks available for purchase. Apart from the listed discounts for some brands, it will now be simpler for a person to review and order foreign auto engines from the suppliers in the company network in the USA.
"We're supporting American brands like Chevy as well as foreign automakers like Honda on our website to help consumers," said the source.
The PreownedEngines.com company now delivers two methods of contact to a person who takes interest in the inventory offered for sale online. A toll-free number at 1-866-320-1065 now places buyers in touch with parts experts who can explain pricing and other options at the time of checkout. The quotation form presented on the homepage can be used to evaluate pricing using any device.
About PreownedEngines.com
The PreownedEngines.com company provides a top resource to search, compare or purchase automobile motors distributed by top providers in the United States. The company provides a way to review pricing and inventory information before ordering. The PreownedEngines.com company supports daily usage of its web tools by consumers who research vehicle components for sale.