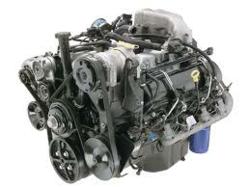 The termination of these motors in 1993 has created more challenges to find preowned units for replacement.
Milwaukee, Wisconsin (PRWEB) June 15, 2013
The GotDieselEngines.com company is now selling and distributing used Chevy 6.2 liter diesel engine inventory in the U.S. at http://www.gotdieselengines.com/chevy-6-2-liter-diesel. These Detroit Diesel engines used in Chevy vans and trucks were only produced for a 10-year period. The termination of these motors in 1993 has created more challenges to find pre-owned units for replacement.
Diesel engine development by General Motors includes internal and thirty party manufacturing. More than one company has been used to provide the engines used in vans and trucks in North America. Vehicle owners or mechanics searching for the vintage types of engines are part of the group of buyers expected to benefit from the Got Diesel Engines Co. inventory online.
To make research easier for these motors, the web quotation system is now the fastest way for buyers to receive immediate engine information. This quote system for diesel engines is able to produce 6.2 prices as well as additional motors recently announced by this company for inclusion in its growing engine database.
The company offering of the 6.2 series is in addition to the 6.5 announced last month for diesel engine buyers. The news release published at http://www.prweb.com/releases/65-chevy-diesel-engine/used-chevy-diesels/prweb10727710.htm announced this Chevy addition to the public.
About GotDieselEngines.com
The GotDieselEngines.com company remains one of the largest sources of secondary motors currently offered to buyers online. This company developed its website with leading technologies to improve inventory research and price distribution online. This company employs a trained staff of diesel engine specialists providing immediate customer service. The GotDieselEngines.com resource online is now used in all parts of the country by owners of vehicles, mechanics and installers searching for discounted replacement engines on the Internet.