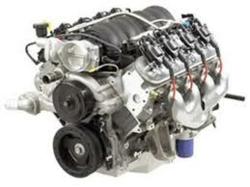 The sales that are now conducted online automatically come with a new term of warranty protection.
San Francisco, California (PRWEB) January 10, 2013
Preowned automobile, pickup truck and SUV engines can be hard to locate online for select brands. The Chevy brand is a popular replacement engine and these are now sold online by the Engines for Sale company. These used Chevy engines are now added online for direct sale to salvage yards, junkyards, body shops, mechanics and vehicle owners purchasing quality editions on the secondary market. More information can be found by visiting http://enginesforsale.org/chevy/used-chevy-engines-sale.
The Chevrolet brand is part of the General Motors family and millions of these vehicles are sold in the U.S. each year. Vehicle owners who purchase new vehicles automatically receive parts and labor warranties for a motor. Preowned vehicles usually do not come packaged with warranty protection. The motors that are now sold online in the Chevrolet family now provide affordability to owners of secondary market vehicles or resellers of motors offline.
The sales that are now conducted online automatically come with a new term of warranty protection. The EnginesforSale.org company has changed its company warranty policy and now offers parts warranties. The secondary market motors that are offered in all makes and models are now eligible to receive this new coverage. This is designed to protect vehicle owners and companies that purchase for installations in third party vehicles.
The Chevy units that are now in stock represent part of an inventory upgrade that was launched in late 2012. New editions from the lineup of Ford Motor Company and General Motors have been added every month. These preowned motors go through visual and mechanical inspections to assure that each unit remains high quality. The mileage is verified and accurate descriptions are written for each motor. The news announcement for the start of phase one of these upgrades can be found online at http://www.prweb.com/releases/engines-for-sale-company/expands-ford-chevy-dodge/prweb10036149.htm.
About Engines for Sale Co.
The Engines for Sale Co. supplies domestic and foreign preowned automotive, truck and SUV engines. This company secures the highest quality units due to its distribution contracts with auto suppliers. Rounds of testing are performed by this company to assure all customers who purchase online or offline of the quality received. The Engines for Sale Co. provides affordable prices and a no cost shipping incentives as bonuses for customers selecting this company as a preowned engine supplier. With warranty protection and customer service experts, this company provides a better research and purchasing experience for buyers.