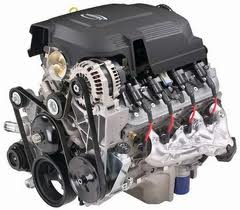 The new inventory upgrade is expected to provide more opportunity for locating these editions online.
San Francisco, California (PRWEB) January 05, 2013
The Chevrolet Vortec series of motors remains popular for preowned vehicle installations and one company has added this edition to its online inventory. The GotEngines.com company is now offering used Chevy engines in the 5.3 size for direct sale to customers online. This addition is designed to help companies and vehicle owners that require this size for a replacement. More information can be found online at http://www.gotengines.com/blog/chevy-engines/chevy-53-v8-engines.
The Vortec series was introduced in the mid 1980s and offered as a newer technology in the GM vehicles. These Gen III and IV motors were used in multiple trucks and SUVs until the mid 2000s when a newer edition was created. Many of the millions of GM vehicles sold are still in production and some could be ready for motor replacements. The new inventory upgrade is expected to provide more opportunity for locating these editions online.
The upgrades to the company inventory represent a portion of the strategies that have been put in place at the GotEngines.com website. A brand new freight policy has helped more customers that purchase online to save additional money off the cost of purchasing a motor. This new no cost shipment policy inside the 48 continental states is one way that is now used as an incentive for those that are buying a replacement engine online.
This new policy is expected to remain in effect until further notice. The news announcement for the first phase of these incentives can be found online at http://www.prweb.com/releases/used-engines/used-engines-for-sale/prweb10271659.htm.
The Vortec 5.3 addition is part of a larger General Motors upgrade for online and offline sales. This company now offers most of the complete line of classic and late model motors that customers search for online. Through new distribution partnerships, new opportunities to find lower mileage engines has been created. These new deals have resulted in a much larger inventory that is now sold for lower prices. These changes have affected the GM, Ford and Toyota lineups.
Those that are interested in browsing the new inventory or exploring the new pricing in effect can visit the company website or call toll free at 1-866-320-1065.
About Got Engines
The Got Engines company has sold its inventory offline for decades and created its first online presence in 2007. This company quickly went national online and established distribution partnerships in all 50 U.S. states. The dealerships, salvage companies, junkyards and mechanics that makeup the B2B sales have helped this company expand its inventory. The addition of selling to the public starting in 2009 has helped to introduce the low pricing and warranted engines to the general public. Through online quotes and no cost shipping incentives, this company is now one of the leading suppliers of secondary market motors in the online marketplace.