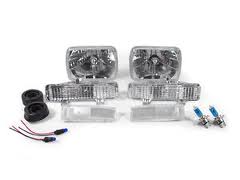 The preowned parts included in the headlight section of the company inventory are one example of the recent upgrades launched by this company this year.
Peoria, Illinois (PRWEB) May 19, 2013
Locating exterior parts for automobiles can be one challenge presented to vehicle owners and other parts buyers. Automotive dealerships typically supply OEM parts in new condition although these can be higher priced. The AutoProsUSA.com company launched its discount parts superstore online and is now providing many popular parts in used condition for lower prices. This company is now discounting its used Chevy S10 headlights as one effort to attract more buyers. These lights and the current sale price can be viewed online at http://autoprosusa.com/chevy-s10-headlights-sale.
The range of S10 parts that are now sold on the company website date from 1982 to 2004. This data range is now offered to ensure that all parts buyers can be matched with hard to find inventory from automakers like General Motors and other companies. The preowned parts included in the headlight section of the company inventory are one example of the recent upgrades launched by this company this year.
The Auto Pros USA company has developed a new way to process price quote requests for buyers on its website. The company toll-free number is one example of the increase in customer service now provided. The use of an online system to process quotes is now one tool available for buyers. This new tool requires a simple date range for each part and the make desired.
This criteria is now used to present multiple price quotations from the company inventory as well as inventory from suppliers around the country. This quote method is expanding the purchase options buyers have access to online.
Several marketing methods are now in place at this company to introduce more parts buyers to the current parts that are supplied. Aside from hundreds of brand new website pages online, this company has created a new video channel online. This visual way to promote parts and the ways that customers can use to place orders is expected to create more sales volume this year.
These videos are now one informative way that buyers can use to learn about the quality, warranties offered and other essential information before purchase. The videos can be accessed on the Internet at http://www.youtube.com/watch?v=ANvqtRzHsGs.
Parts buyers interested in bulk purchases, direct to dealer shipments or other inquiries can now use the new company contact information to receive immediate assistance. This company can be contacted using the following data:
Auto Pros USA
1270 Crabb River Rd.
‪Richmond, TX 77469
(888) 230-1731
(713) 560-7017
About AutoProsUSA.com
The AutoProsUSA.com company is one example of an online retailer able to expand its business thanks in part to the Internet. The expansion of the parts inventory offered for sale by this company in 2013 has allowed a larger network of buyers to be created. This company is now a used parts supplier to all sections in the United States and uses common freight carriers able to provide fast delivery for all shipments. The AutoProsUSA.com company has developed a powerful website search and quote tool for pricing online. The use of this tool is now the preferred way that buyers receive immediate information about the current company stock as well as the prices that can be obtained when using this company as a parts supplier.