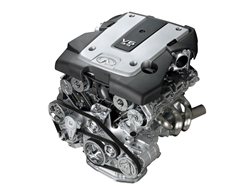 We're one of the only secondary market distributors of motors to feature a complete domestic and foreign inventory for buyers to review on the Internet
Evansville, IN (PRWEB) December 19, 2014
The Fiat-Chrysler partnership that was announced in 2014 has helped boost sales of preowned motors across the United States. The Revven company has now upgraded its inventory of auto industry parts and is now discounting its used Chrysler engines for sale to national buyers.
The available discounts that are included with the purchase of a second hand Chrysler motor this year are expected to help buyers who are presented only with MSRP prices from dealerships or retailers. The Revven website is now featuring its easy search tool to find the low priced Chrysler-Fiat motors in stock.
"We're one of the only secondary market distributors of motors to feature a complete domestic and foreign inventory for buyers to review on the Internet," one Revven.com rep said.
The automotive market within the United States has changed in recent years partly due to increased competition in the wholesale market. While some auto owners still use junkyards to find out of market motors for sale, quality issues are one factor that can prevent a successful sale.
"The preowned Chrysler inventory of engines that we've discounted for consumers this year include a general parts warranty as well as the cost for freight to U.S. destinations," said the rep.
The Revven company now includes access to its inventory from the parts finder located on every page of the company portal. To help consumers receive immediate service, a toll-free help line has been established for daily use at 1-877-808-5529.
About Revven.com
The Revven.com company is one of the leading suppliers of secondary market automobile engines in good condition in the United States. The company has featured its low prices and no charge warranties to buyers for the past several years. The Revven.com company adds to its auto parts inventory monthly and frequently provides shipping incentives and one-time discounts for all processed orders through its phone or web portals.