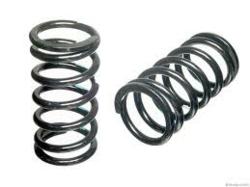 These springs are offered for import and domestic produced vehicles and have a discount price attached.
Sandusky, Ohio (PRWEB) June 02, 2013
Suspension parts for vehicles help to contribute to the overall safety. Replacing essential safety components can be one expense that vehicle owners are unprepared to make. The AutoProsUSA.com company sells preowned suspension parts and accessories to buyers across the United States online. This company has now added used coil springs to help fill up its inventory of parts available for sale. These springs are offered for import and domestic produced vehicles and have a discount price attached. The company parts inventory can be searched on the Internet at http://autoprosusa.com/used-coil-springs-for-sale.
Auto body shops and mechanics typically provide the repair work necessary for owners of preowned vehicles. Automotive dealerships exist to repair and service vehicles that are under warranty for specific vehicles. A vehicle owner without a warranty policy could be forced to pay the full retail price for parts plus the cost of mechanic labor.
One of the ways that the new addition of coil spring parts and accessories is expected to help buyers is with the lower pricing. The reduced price attached with the sale of these parts is offered to help reduce the cost of vehicle owners buying parts for replacement in professional service centers.
New customer service features have been included on the AutoProsUSA.com website this year. One of the first installations was the toll-free number. This new number is in addition to the local company number used to supply information to parts buyers. The toll-free number now provides a national source of contact that buyers in any part of the U.S. can use to determine pricing for all parts in stock. This number is staffed by company parts specialists who are able to research VIN numbers, part codes and other identifying information for parts in stock. The additional installation of the quotation tool for pricing online has helped to deliver prices to buyers entirely on the Internet.
The addition of the springs and suspension parts online is helping to broaden the available inventory that parts buyers can find. Additional inclusions to this inventory were announced this month to provide truck owners with essential parts for medium-duty and heavy-duty trucks.
The news release published online at
http://www.wrcbtv.com/story/22230658/torsion-bar-inventory-for-pickup-trucks-increased-at-autoprosusacom was used to introduce the torsion bar inventory that is now available for sale. These bars are supplied by some of the leading companies distributing parts for trucks in the country. The same pricing structure used for the coil spring inventory is applied to the torsion bars now for sale to the public.
About AutoProsUSA.com
The AutoProsUSA.com company discounts its complete inventory of used auto parts and accessories for buyers to benefit in North America. This company supplies access to its parts database to make searching and purchasing parts easier for buyers. The imported and domestically produced parts that are available for sale online are supplied by leading companies in the automotive industry. The AutoProsUSA.com company supplies updates to its company inventory on a daily basis to ensure that hard to find parts can be found easier and at the lowest prices that are currently available for buyers.