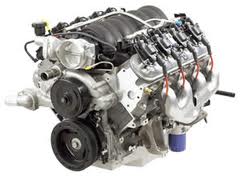 The arrival of these engines is making it easier for customers to purchase various V6 and V8 engine types without high dealer markup pricing.
Dallas, Texas (PRWEB) March 31, 2013
The Corvette has remained one of the best-selling vehicles in the General Motors family. While these vehicles have a longer than average lifespan, motor replacements can be required by owners and locating a source to purchase motors is now expected to be easier for buyers online. The http://usedenginesforsale.net company has now added used Corvette engines to its GM inventory online. The arrival of these engines is making it easier for customers to purchase various V6 and V8 engine types without high dealer markup pricing.
The first edition of the Corvette was introduced in the 1950s and this vehicle has remained in production due to consumer demand. Automobile collectors, average drivers and car rental agencies represent the types of buyers purchasing this vehicle series.
Because these vehicles are considered performance types, locating a motor apart from the GM dealership can prove challenging for buyers. The preowned motors now available for sale are expected to offer the discount resources for purchase that cannot be found through local dealerships.
GM has used the V6 and V8 engine types in production for the Corvette. While new vehicles using these engine types provide warranty coverage, many preowned vehicles are without coverage for engine types. A new warranty program for GM engines in now in place at the UsedEnginesforSale.net company.
This extended coverage program is now providing more longevity for motors purchased and installed by buyers. This complimentary warranty program is offered as one alternative to companies who refuse or limit warranty protection.
The GM inventory expansions that have been completed this year have helped to extend the inventory available for replacements. Recent Ford additions have made it possible to complete many of the engine requests that have been made by customers this year. From I4 to V8 sizes, the Used Engines for Sale Co. now offers various engines to fit the majority of makes and models for Ford Motor Company and General Motors vehicles. These practices are scheduled to continue through this year as other engine variants are bought and sold to the public.
About UsedEnginesforSale.net
The UsedEnginesforSale.net company provides used engines at lower than MSRP pricing to customers online and through the company toll-free telephone number. This company distributes its inventory to North American and Canadian buyers. Engine types for cars, trucks and sport utility vehicles are purchased and sold at this company daily. The UsedEnginesforSale.net company provides expedited shipping and extensions of engine warranties to ensure that buyers receive protection after purchases are complete. Updates are frequently made to the company website to help provide more information to buyers before purchases are made.