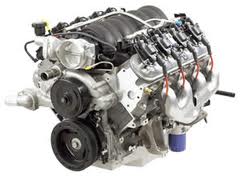 The updates to this system now include a one-touch way of receiving prices for Corvette motors or other units that are in the company warehouse.
Albany, New York (PRWEB) May 15, 2013
More than 50 years of production has been put into the Corvette due to its worldwide appeal. The General Motors company continuously develops engine technologies for integration into the Corvette series. The usedenginessale.com company is a leading supplier of preowned motors on the Internet and has now added used Corvette motors for buyers. These motors are now provided with new web pricing to appeal to buyers hoping to find better discounts. The company price structures as well as the inventory that is now available can be researched on the company website.
The LS series engines that have helped to make the Corvette famous remain in demand for replacement purposes. Locating used motors can be one of the most difficult tasks for owners of vehicles. Replacing higher than average mileage engines can be costly for a buyer without a connection to purchase engines.
The preowned motors now for sale online are now offered at the price structure that is unavailable to many buyers outside of wholesale or reseller discounts. These motors are inspected prior to shipment to buyers to ensure that mileage and exterior condition can be validated before customer delivery is made.
The UsedEnginesSale.com company updated its company ordering system this year to help expedite orders online. This company added its rapid quote system that is now the primary resource to obtain immediate pricing for in stock motors. The updates to this system now include a one-touch way of receiving prices for Corvette motors or other units that are in the company warehouse.
This method is in addition to the toll-free number that remains in use at 1-888-496-6099 for customers to use. Aside from these technology changes, the faster shipment policies that were announced last month remain in effect for all orders.
The ordering system updates are in response to increased sales made by this company this year. As an incentive to customers, new warranty terms have been established to help extend the lifespan of each motor ordered. These warranties are able to provide a better level of coverage for parts protection. A time period of up to two years is now provided for the majority of engines that are sold through the company ordering systems. These warranties and additional incentives are being used to provide a more trusted purchasing experience for buyers.
About UsedEnginesSale.com
The UsedEnginesSale.com company provides discounted motors to buyers in all 50 U.S. states to ensure that all buyers receive access to affordable inventory. This company stocks Ford, General Motors, Chrysler, Toyota, Honda, Kia and Isuzu engine variants for immediate sale. The online updates to the company ordering system this year have expanded the distribution available. The UsedEnginesSale.com company now supplies more replacement motors to the general public as well as the trade industry. Through low pricing incentives and faster shipments, the company sales volume has been increased this year for online and manually processed telephone orders.