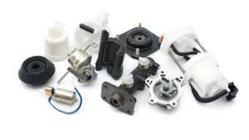 The discount pricing that is applied to these parts is one effort made to help lower the actual replacement cost.
Indianapolis, Indiana (PRWEB) June 01, 2013
The production of the Honda CRX was terminated in the early 1990s although this vehicle remains popular in used form. The parts research process to locate replacements for this vehicle can be limited due to lack of available parts for sale online. The AutoProsUSA.com company has now added used CRX parts to its inventory of Honda auto parts. These parts are now sourced from suppliers able to obtain these pullout editions from operational vehicles. The parts are ready for install and are designed to be an affordable replacement option for owners of Honda cars. Details can be obtained online at
http://autoprosusa.com/quality-used-crx-parts-available-now.
Replacement parts for JDM vehicles are not carried by all auto parts retailers. The importing that is required by retailers to stock these parts can bring extra fees to the list price. Availability for parts for Honda, Toyota, Nissan and Kia can be limited in some parts of the country.
The CRX parts in preowned condition that are now sold online are expected to provide the resources for purchase that some buyers cannot find online or through a local retailer. The discount pricing that is applied to these parts is one effort made to help lower the actual replacement cost. This new pricing is available for both online and telephone orders.
The Auto Pros USA company designed its website to be user-friendly for all parts buyers researching online. New enhancements have been made since the original website launch to help make the research process for parts easier. A quick search tool is now the first feature that greets parts buyers searching for preowned parts in stock. This new tool can be used to match the parts year as well as the make in the company database. When a match is found, a price quote can now be achieved through this search system. These tools are designed to help buyers purchase parts easier.
Price incentives recently announced by the AutoProsUSA.com company have been arranged to help discount certain groups of parts in the company inventory. The JDM as well as domestic inventory carried for cars, trucks and SUVs is now under new pricing. The news announcement made recently at http://www.prweb.com/releases/cheap-auto-parts/auto-parts-supply/prweb10491150.htm is one strategy used to notify all parts buyers of the new savings available.
The time period for the new price discounts is expected to remain in effect until the end of the year to allow more buyers the opportunity to reduce purchase prices. The new company toll-free number can now be used to quote pricing or to obtain discount price information.
About AutoProsUSA.com
The AutoProsUSA.com company built its database online of used auto parts to help buyers from all parts of the U.S. to find parts quickly. The new search and quotation feature that is published on the company website is now one of the primary ways that buyers are using to locate parts that are out of stock using other resources. The discount price levels that are used by this company are helping more buyers to save money on preowned parts. The AutoProsUSA.com company makes changes to its company policies as well as inventory carried to ensure that all customers receive expected quality in all parts ordered.