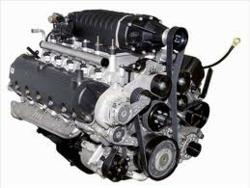 The complete inventory that is searchable on the Internet can be quoted through the company system.
Orlando, Florida (PRWEB) May 04, 2013
Ford has consistently updated its engine technologies over the past three decades. The upgrade from the Zetec platform to the larger Duratec has resulted in more fuel efficient engines in larger sizes. The replacement engines seller usedenginessale.com is now selling used Duratec engines for buyers online. These Ford replacement motors are offered in popular displacements to provide a genuine motor for a reduced price to owners of Ford vehicles or companies purchasing for resale to the public.
The V6 engine editions that are part of the Duratec family have been used in some of the most popular vehicles produced in the current Ford lineup. The Taurus and Fusion have made use of the six-cylinder technologies that the Duratec family of motors provides.
The fuel efficient range as well as the horsepower provided gives owners of this engine series the options typically found on more expensive vehicles. The motors that are now sold and discounted online are OEM units that can be difficult for a buyer to locate without going through a dealership for purchase.
The UsedEnginesSale.com company has made several changes to its policies for warranties offered this year. The benchmark warranty that some companies offer ranges from 30 days to 12 months in length. While some buyers are fortunate to find coverage, many buyers purchase unprotected engines from retailers.
The new two-year extension parts warranties are now attached with each engine sale made on the company website or toll-free ordering system. These warranties are one example of the types of policies now effective to build better buyer assurance online.
Engine quotes can now be obtained online using the company system for price distribution. These quotes are offered as one method to obtain the most updated pricing apart from calling a company specialist. The complete inventory that is searchable on the Internet can be quoted through the company system. The new additions that are made to the company inventory online are inserted into the quote system to make it faster for buyers to research pricing and in stock availability. Personal assistance for pricing remains accessible through the company toll-free number.
About UsedEnginesSale.com
The UsedEnginesSale.com company is now a leader in secondary market sales to owners of vehicles, mechanics, warranty companies and salvage companies buying replacement motors online. This company is staffed by helpful specialists in the auto industry to ensure that all buyers receive immediate access to new and classic motors. The UsedEnginesSale.com company policies make it easy for buyers to purchase at a reduced price and receive automatic shipment incentives. This company monitors the success of its incentives to provide a memorable buying experience for its engine buyers in the United States.