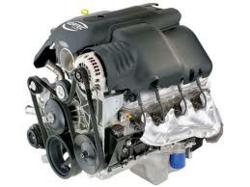 These motors are in OEM condition and offered with low mileage to provide better engine quality for buyers.
Albany, New York (PRWEB) May 07, 2013
The development of the General Motors engine program has helped to introduce technologies in the modern vehicles produced. The creation of the Ecotec engine family has created more variety for vehicle owners. The http://autoenginesforsale.com company has added new engine types to its online inventory this year and is now selling used Ecotec engines. These motors are in OEM condition and offered with low mileage to provide better engine quality for buyers. These motors and the current company pricing can be viewed online.
Preowned engines are one way that a vehicle owner can use to locate an affordable replacement. These motors traditionally have lower than MSRP pricing due to the age and condition that some motors can have. One element that is considered by buyers before a purchase is made is the amount of mileage that is located on the engine block.
The engines that are now offered for sale are low mileage variants that have been inspected and evaluated prior to customer shipment. These efforts apply to the complete GM inventory stocked online and offline by this company.
Locating pricing for engines on the Internet can require research by buyers. Many of the engines that are sold online vary in price and can be difficult to calculate the discounts. The AutoEnginesforSale.com company has updated its pricing structures online and distributes its pricing to buyers. The company search tool is now capable of providing updated pricing for all in stock engines. This easy to use quote system is expected to help more buyers eliminate the research process for pricing online. This new system receives daily updates to provide accurate data.
The company additions for engines this year has helped to create a new policy for shipments. These expedited methods are helping more buyers to receive faster shipments. The company shipment policies are helping to provide better insurance to protect against transit issues or problems with delivery. The company expedited shipments are expected to remain in place through the rest of this year. The same day shipments that are included with each online and offline order come at no additional cost for engine buyers.
About AutoEnginesforSale.com
The AutoEnginesforSale.com company discounts its entire inventory for engine buyers. The offline and online inventory provided by this company has expanded the buying options for customers this year. The foreign and domestic inventory that is carried by this company is in preowned condition and is offered with low mileage. The protection in the form of an auto engine warranty that is now supplied is helping to expand the assurance in the company inventory. The AutoEnginesforSale.com company expedites its customer shipments for no extra charge to ensure all buyers receive faster shipments to keep installation schedules on time and on budget.