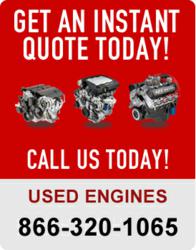 We've always done well with our pricing and listen to each and every customer.
Los Angeles, CA (PRWEB) April 12, 2012
Used engines are one of the biggest sellers for retailers that are selling more than simple auto parts online. The quality of the automobiles, SUVs and trucks that are now produced is one of the causes for vehicles remaining on the road well after 100,000 miles. For used vehicle owners, finding a replacement engine online can be good or bad depending on the seller. One company is now celebrating its 5th year selling used engine online. GotEngines.com started in 2007 as an alternative for junkyards, mechanics and body shops to buy engines from a reputable dealer and not from auction websites. Through its 5-year history, http://www.GotEngines.com has consistently changed its business models to respond directly to the current needs of engine buyers.
Buying a used engine 10 years ago was relatively easy. A buyer would make a phone call to a dealership and a price would be quoted for sale. Due to the competition online, the buying process is now more complicated as many retailers are striving to be in the top spot in search engines like Google and Yahoo. "We've always done well with our pricing and listen to each and every customer," said Rob Randall, a Sales Manager for GotEngines.com. "Our customers are not afraid to tell us if they have located a cheaper price for a comparable engine over the phone," added Randall. The competitiveness of the used engine industry has directly affected the way that engines are sold to individuals and business owners. As automakers continually raise prices, retailers like http://www.GotEngines.com are constantly adjusting financial numbers to get the best price for customers.
GotEngines.com negotiates with long distance freight carriers to deliver engines for all makes and models. "Some of our diesel engines are very large and would be impossible to ship any other way apart from a tractor trailer," said Mike Martin, Shipping and Receiving Manager. "We get accurate price quotes from trucking companies around the U.S. and ship every engine free of charge to our customers," added Martin. The value of the freight alone could save the average buyer several hundred dollars in freight expense.
Stocking thousands of engines takes an enormous amount of space. Many small retailers cannot compete with large engine dealers due to the lack of a large enough storage facility. The competitiveness in pricing combined with the need to buy engines in multiple quantities from distributors is hard for the average retailer to handle. GotEngines.com started its business with a small warehouse and quickly expanded to a 100,000-foot warehouse that currently stores in excess of 7 million dollars in inventory. While some retailers come and go online, this used engines retailer has celebrated 5 very productive years with more growth expected in 2012.
About GotEngines.com
The low prices and free shipping provided by GotEngines.com has helped this used engine dealer to build a massive following of satisfied customers on the Internet. With engines in stock from every major U.S. and foreign automaker, GotEngines.com continues its climb to being the number one used engines retailer on the Internet.