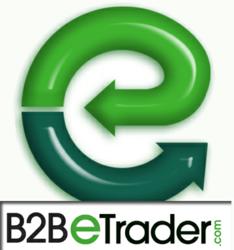 As a small business owner it is nice to know that there is a website I can turn to buy, sell, or trade used equipment, says website user.
Tampa Bay, FL (PRWEB) December 29, 2011
At a time when more and more businesses are looking for a way to save money on their yearly expenses, B2BeTrader has just launched with a clever solution. It's a free directory where businesses can list their used equipment like, restaurant equipment, medical equipment, farm equipment, heavy equipment, or anything else they're looking to sell.
For those who are struggling through the rough economy, B2BeTrader is a godsend. When a piece of equipment stops working, it can force businesses to shut down altogether. With a single place to find what they need, businesses can get back to work without paying the high cost of buying new.
B2BeTrader Offers:
Great Prices on Equipment That Still Works. There's no need to buy new if you don't have to. Companies can save thousands of dollars.
A Green Alternative. Manufacturing new office equipment expends energy and contributes to global warming. Recycling is a cost effective solution for many businesses.
Equipment From a Diverse Array of Industries. Whether you're a restauranteur, a medical practitioner, or a farmer, you'll find something you need for much much less.
A 100% Risk Free Guarantee. You work with real businesses owners who are held accountable for any and all transactions.
No Membership Fees or Setup Costs. B2BeTrader is a completely free online classified site. We don't charge you for anything.
B2BeTrader's founder, Jovan Haye, saw the need for a new way for entrepreneurs and business owners to find the equipment they need to get started or to simply stay in business. At the same time, he wants us all to understand our connection to mother Earth and the importance of reducing our carbon footprint, especially as we enter into a newer greener era.
"The old guard has collapsed under its own weight," Jovan said, "and green entrepreneurs are ready to take on the challenge of building eco-friendly businesses that reduce our impact on this planet. We think purchasing used and recycled equipment for sale is great way for these up-and-comers to start."
It's a time when ecological and economical are meeting face to face. In a bid to reduce their spending on office equipment, businesses are looking to online classifieds like B2BeTrader. As a result, these same businesses often find recycled equipment that more than meets their needs. Eco-friendly is now becoming wallet friendly.
Some businesses don't even use money to purchase equipment for sale. They prefer to barter with other companies, exchanging their own used equipment and services for recycled equipment that isn't properly being put to use. "You know, it's funny." Jovan said, "I never would have imagined B2BeTrader could become such a hotspot for online bartering. It just goes to show there's more than one way to skin a cat these days, especially in this challenging economic climate."
If you're interested in buying or selling your used restaurant equipment, office equipment, medical equipment, farm equipment, or heavy equipment, visit B2BeTrader at http://www.b2betrader.com
On Facebook:
facebook.com/pages/B2Betrader/241082985932618
On Twitter:
twitter.com/#!/b2betrader
On LinkedIn:
linkedin.com/in/b2betrader
B2Betrader is a business to business (b2b) classified and directory website. This website serves businesses that are looking to get the most out of their assets whether they are equipment, supplies or services. This website will help businesses operate efficiently, and at the same time, help the environment by reducing unnecessary waste. B2Betrader is a one-stop shop for companies' procurement buyers, supply chain / outsourcing management teams to buy, sell, trade and barter equipment, supplies, services and any other assets. As businesses are scaling back due to the economy, this website will be an important source for raising capital to help finance upcoming new projects or help with the maintenance of current infrastructures.
###