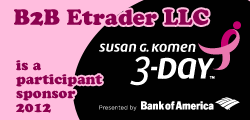 (PRWEB) May 01, 2012
One of the biggest challenges impacting women around the world is breast cancer. According to the American Cancer Society, this disease resulted in the deaths of 39,520 people last year. Moreover, the total number of new cases is 234,480. These figures are showing how breast cancer is a major condition that is having adverse impacts on the lives of the individual and their family members. To help raise awareness about these issues and encourage continuing research is the Susan G. Komen Walk. Originally started in 1991 with 800 participants, the event has become a national phenomenon (with more than 1 million people taking part every single year). The funds that are raised from the sponsorship are used to provide direct support to local communities and offer grants for continuing breast cancer related research. The combination of these factors is helping to reduce the mortality rates of women who are affected by this disease. B2BeTrader is playing a direct role in helping to support these activities with their sponsorship of the walk.
The Susan G. Komen Walk and B2B e Trader
The Susan G. Komen Walk is a 5K run / walk-a-thon that is designed to raise awareness about breast cancer research and the need for continuous funding. Under this approach, various corporations will sponsor specific participants (who are helping to raise money). This year B2B e Trader is directly involved with the event through: their support of different walkers in the race (which will take place in Atlanta, Georgia on Saturday May 12). This is showing how B2B e Trader is taking their philosophy of providing something more to another level.
How B2B e Trader is offering Businesses something more?
B2B e Trader was established based on the idea of providing businesses with something extra. This is because there was a clear need to give firms the tools they require to reduce their costs (through the online marketplace). This allows users to directly connect with other parties that are trying to buy / sell / trade a number of: products, services and equipment. For business owners and entrepreneurs, this is giving them the flexibility to reduce their costs and increase competiveness for free. The combination of these factors is helping many firms to adjust with the challenges that they are facing.
Clearly, B2B e Trader was founded based upon the idea of offering something more to everyone. This philosophy has been taken one step further with their direct support for the Susan G. Komen Walk in Atlanta, Georgia. This is a sign that the firm is taking these values and they are applying them on a level that will benefit entire communities. As a result, B2B e Trader is demonstrating how it is possible to embrace the highest ethical practices (which are helping firms to be more competitive). This is creating win – win situations for everybody. Making it ideal for businesses and professionals to buy, sell, or trade used equipment, like restaurant equipment, medical equipment, office equipment, heavy equipment, IT equipment and more.