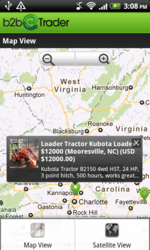 (PRWEB) May 04, 2012
Over the last several years the economy has been very volatile. Evidence of this can be seen in the recent GDP report (which is showing how economic growth decelerated in the first quarter of 2012 to 2.5%). This is below the 3.0% that was reported at the end of last quarter. Commenting about these numbers is Allan Krueger (a Presidential economic adviser) who said, "When you look at the report in the totality, I think it shows that the private sector is continuing to heal from the financial crisis." For businesses, this is challenging as the different starts and stops are making it difficult to adjust with the challenges they are facing. To help various sized firms B2B e Trader has recently introduced their on the go mobile application. This is taking their next generation tools and applying them to wireless technology.
The Wireless Application and B2B e Trader
B2B e Trader is focused on providing any sized business with the tools they need to be successful through their online marketplace. This is where users can post, share or sell different products, services and equipment for free. Moreover, they can target their search to within a specific zip code. To keep up with current trends, B2B e Trader also is providing everyone with access to the chat rooms and message boards. This is a place where business owners and professional can be able to discuss new ideas with successful entrepreneurs. These tools are helping to make businesses more competitive by providing them with the resources that will address their critical needs. Making it ideal for businesses and professionals to buy, sell, or trade a host of commercial used equipment, like restaurant equipment, medical equipment, office equipment, heavy equipment, IT equipment and more. In the future, this means that they are able to more effectively adjust with shifts in the economy by reducing their costs.
B2B e Trader has taken the online market place and they have created a mobile application for the Google Android. This is allowing business owners to use their smart phones to post their ads and directly connect with the other party. In a digital economy, these tools are keeping them competitive (through maximizing their time and efforts). In the future, B2B e Trader will also be introducing new mobile applications that can be used for the iPhone and on Windows based devices. This means that anyone can easily stay connected to the online marketplace.
Clearly, businesses are facing tremendous challenges from the uneven amounts of economic growth. This is having an impact on their bottom lines results and ability to compete. To help any sized firm deal with these issues, B2B e Trader has introduced the first in a series of mobile applications for different kinds of smart phones (i.e. the Google Android). In the future, they will be launching other applications that can work on the iPhone and Windows based devices. For business owners, these tools are helping to make them more productive, reduce their costs and address critical needs. In the future, this will allow companies to maintain their customer base and adjust with new competitors. This is the point that they can avoid critical mistakes. When this happens, any sized business will have the ability to evolve with the challenges they are facing.