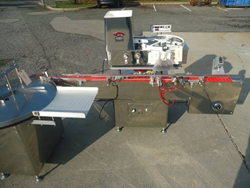 We pride ourselves in maintaining long-standing relationships with our customers.
Bohemia, NY (PRWEB) May 20, 2014
Wohl Associates of Bohemia, NY, specialists in used processing and packaging machinery, has recently added used vitamin manufacturing equipment to their extensive inventory. The new items include a Mikro-Pulverizer® from Hosokawa Micron Powder Systems, a Capmatic Rebel monoblock vial packaging machine, and a King TB4 tablet counter and filler.
The Mikro-Pulverizer® uses stirrup-type hammers in a grinding chamber to turn feedstock into powder as fine as D97 = 45 microns. Standing on a fabricated frame with sturdy legs, this also has a feed hopper, two explosion-proof motors and a motor control panel. A 5 hp motor powers the grinding action while one of ¼ hp drives the product feed screw. An ammeter on the control box displays the current drawn. The machine needs 3-phase, 60 cycle power at 230 or 460 volts. (The smaller motor also runs on 208V.)
The Capmatic Rebel monoblock vial packing machine uses a pocketed wheel to index small containers through a series of stations. Last used to place a dip tube and perform crimping and over-capping on bottles approximately 1 inch diameter, the machine is rated to run at up to 120 units per minute. Mounted midway through a conveyor of approximately 10 feet and constructed from stainless steel, the machine needs 3-phase, 60 cycle power at 220 volts.
The King automatic counting and filling line comprises a King Model TB4 counter/filler, and a 98" long indexing conveyor. The versatile TB4 counts most shapes of tablets and capsules with high accuracy and fills containers on the conveyor. Made from stainless steel, this uses single phase, 60 cycle, 110 volt power.
The TB4 can also be supplied, at additional cost, with a 36 inch diameter King rotary unscrambling table. This provides an easy and reliable way to keep the input conveyor full, maintaining machine utilization. King quotes a maximum output of 2,000 tablets per minute.
Available together or separately, this equipment will interest those looking for used vitamin manufacturing equipment. Potential buyers wishing to learn more should contact a product specialist at Wohl Associates for further details.
About Wohl Associates
Wohl Associates is a leading dealer in the used processing and packaging machinery industry. With a history and solid reputation spanning over 40 years, they have earned the trust of their clients by offering quality pre-owned equipment, expert customer service and invaluable knowledge to their customers. They treat each customer on an individual basis and customers are provided the highest level of service. With a large inventory including cartoners, ribbon blenders, stainless steel tanks, unscrambling tables, colloid mills and vitamin manufacturing equipment.
Wohl Associates has the pre-owned machinery to fit any production line. To view their inventory and learn more, visit them at http://www.wohlassociates.com/.