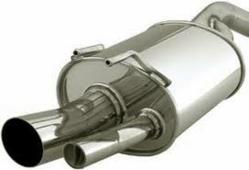 A lowered retail price can now be found packaged with these emissions systems to offer vehicle owners retail price alternatives online.
Pittsburgh, PA (PRWEB) June 20, 2013
Exhaust systems are part of the undercarriage of each automobile to expel carbons from combustion engines and used in all types of automobiles. The AutoProsUSA.com company supplies preowned automobile parts and accessories to U.S. buyers. This company is now offering used exhaust systems for vehicle owners online at http://autoprosusa.com/used-exhaust-systems.
These systems provide the foreign and American made units that are used for replacing defective or worn systems. A lowered retail price can now be found packaged with these emissions systems to offer vehicle owners retail price alternatives online.
The EPA regulations that are required by automakers during vehicle production includes air quality testing to ensure that a vehicle exhaust meets strict guidelines. Automakers have used various types of production to include ways to remove carbon gases from engines.
The catalytic converter, piping and muffler systems installed on imported and American made vehicles helps regulate the emissions standards required. Vehicle owners who are not currently purchasing from automotive dealers in the U.S. could benefit from purchasing the preowned systems now discounted for online sales.
"Not all retailers provide exhaust parts and accessories for older vehicles," a representative of the Auto Pros USA company added. Some third party mechanics and body shops supply aftermarket units that are installed for vehicles. The OEM units that are required by most automakers during an emissions system replacement can present difficulties for buyers without automotive resources.
"The reduced pricing found in the database online is regular sale pricing apart from announced markdowns," added the representative. The secondary supply companies that offer the preowned parts to the public have been selected by this company for parts quality and warranty incentives offered.
Individual exhaust components can be purchased apart from the complete systems that are sold online. The updated undercarriage inventory has received more than one update in the past two months to build up the variety now presented to buyers online. Essential parts like rear differentials, fuel pumps and electronic control systems are now part of the inventory of used auto parts and accessories distributed by the AutoProsUSA.com partner companies. The price quotations that are generated using the company website are helping to make it easier for buyers to compare partner company pricing with other retail pricing listed on the Internet.
About AutoProsUSA.com
The AutoProsUSA.com company supports the secondary automotive industry by linking distribution companies directly with consumers searching for used parts and accessories. Consumers who use this company to find late model and vintage parts receive frequent shipment policy incentives and reduced pricing for domestic and imported parts. The AutoProsUSA.com company website was constructed to serve immediate pricing and parts details to consumers researching on the Internet. The offline customer toll-free telephone support center provides immediate help with research or pricing to speed up order processing. All secondary suppliers fulfilling Auto Pros orders are hand selected for quality control purposes.