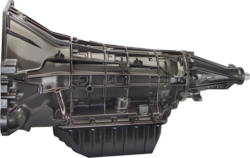 It is common for some vehicle owners to perform DIY installations to repair or replace components.
Cleveland, Ohio (PRWEB) June 18, 2013
Ford transmission development has benefited from technologies created in the early 1980s and expanded upon through to the current year. AutoProsUSA.com is a replacement transmissions seller online and is now altering its pricing for used E40D transmission replacements online at http://autoprosusa.com/ford-e40d-transmission-replacements.
This company has reduced the current sale price to assist F-Series truck owners, mechanics or other installers of transmissions with locating affordable units for installation. These overdrive transmission assemblies are lowered in overall price as an incentive for summer installation schedules.
The introduction of the electronic controlled automatic four-speed transmission in 1989 was one of the firsts by the Ford Motor Company. These automatic transmissions were compact and able to fit into the trucks, vans and SUV created that existed until 1998. The termination of this transmission series in favor of the 4R100 has contributed to some supply shortages with secondary market sellers in the U.S. The Auto Pros inventory of Ford gearboxes online is introducing better variety for replacements that consumers can use when replacing worn out or OEM defective OD transmissions.
The lowered retail pricing attached is made possible in part through the supply arrangements currently in place for inventory. Parts explanation videos are now included on the company website and a developed YouTube channel to offer more ways that parts buyers can learn about what parts types are included online and how to place orders. A sample streaming video can be viewed at http://www.youtube.com/watch?v=ltH-eFZ9sqE.
"Sensors that now control transmissions can be defective in vehicles too," a source from the Auto Pros USA company confirmed. F-Series owners searching for a preowned unit to replace could benefit from a qualified mechanic to review the actual problem before buying a replacement. It is common for some vehicle owners to perform DIY installations to repair or replace components.
"Our electronic controls inventory is now expanding online and is available for shipment within the U.S.," the source added. The used Ford units in stock as well as additional automaker brands are now inspected using diagnostic equipment before customer orders are accepted.
These sensors, modules and computer inventory for domestic vehicles can now be searched by visiting http://autoprosusa.com/transmission-control-modules-for-sale. These components are added as an additional resource Ford parts buyers can use when diagnosing a defective transmission. The integration of these electronic components is expanding the resources that buyers might not have access to in a regional area of the country. The extended discounts and warranty protection continue to apply with the electronic parts currently offered for sale.
About AutoProsUSA.com
The AutoProsUSA.com company promotes its parts specialists by toll-free telephone number and online quotation system built in to the company website. The contracts arranged with distribution companies in the United States has opened up better purchase abilities for this company in 2013. The expanding inventory of car, pickup truck and SUV vehicles can now be researched without effort online. The AutoProsUSA.com company ensures that all customer purchases receive expected incentives like lowered pricing and warranty coverage when each sale is processed. Daily changes to the listed inventory helps this company to keep pricing and availability current for buyers.