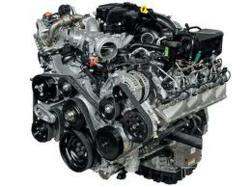 This company is reducing the price of its used Ford diesel engine variants to help make replacements easier to find for buyers
Austin, Texas (PRWEB) June 01, 2013
Diesel engine sales have increased through some retailers online due to the demand by owners of trucks and vans. Locating a discount resource to purchase popular engines produced by companies like Ford can be time consuming for buyers. The GotDieselEngines.com company sells preowned engines and is now providing a summer discount for all orders placed on its website. This company is reducing the price of its used Ford diesel engine variants to help make replacements easier to find for buyers at http://www.gotdieselengines.com/ford-diesel-engine.
The Ford F-Series pickup trucks and E-Series vans have relied upon diesel technologies for more than 20 years in North America. Although gasoline editions exist, many commercial and non-commercial medium-duty vehicles include a diesel engine variant in the Ford lineup. Engine families like the Powerstroke 7.3 have introduced vehicle owners to the engine longevity and horsepower offered in these editions.
The Got Diesel Engines Co. has expanded its website inventory this year and the new Ford discounts are part of this expansion. Better arrangements with distributors and suppliers in the secondary market have helped to make these changes possible.
Buyers can now obtain pricing for the Ford engine inventory as well as other diesels in stock by using the brand new company price system online. This system has been programmed with the complete company inventory and price data is updated multiple times daily. The year of each engine as well as the make can be entered into this new system to receive immediate prices.
The installation of the system is expected to help buyers eliminate engine research and save time purchasing preowned engines on the Internet. All engines added to the company inventory and stock status remain searchable through the new search and quote system.
One of the ways that customers using the GotDieselEngines.com company as a diesel engine provider receive additional buyer assurance is through the new warranty policies established. All suppliers providing the motors that are for sale now supply a basic parts protection warranty.
This news was announced at http://www.newschannel10.com/story/22222990/used-diesel-truck-engines-for-sale-upgraded-to-two-year-warranties-at-gotdieselenginescom to introduce all buyers to the new incentives. These warranty policy changes are in addition to the price incentives that are now provided with all sales. The extra warranty protection is not expected to raise the selling price to allow buyers to benefit with each purchase.
About GotDieselEngines.com
The GotDieselEngines.com company sells preowned diesel motors from Ford, Chevy, Dodge, Cummins, Perkins and other companies. The growing network of buyers using this company to supply replacement motors has improved the sales strategies used this year. Additional marketing efforts are now underway to help introduce the company inventory into new markets across the U.S. The GotDieselEngines.com company maintains its reduced pricing by working strictly with suppliers able to offer better quality engines. The same day order processing procedures and better delivery time frames are helping more engine buyers receive the benefits of purchasing the company inventory.