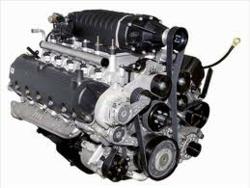 Ford currently produces multiple engine variants for its vehicles.
Erie, Pennsylvania (PRWEB) April 05, 2013
Ford Motor Company is the second largest automaker in terms of sales volume annually. The preowned vehicle market is one popular way that vehicle owners purchase Ford vehicles in a variety of conditions. The motoruniverse.com company is a leading seller of preowned engines online and has now increased its used Ford engine inventory. This inventory now includes passenger car, luxury, sedan, SUV and pickup truck engines sold for discounted prices.
Ford is one of few automotive manufacturers currently producing multiple engine types for use in its vehicles. While some companies retain use of one or two engine types, Ford currently produces multiple engine variants for its vehicles.
The range of four-cylinder, six-cylinder, eight-cylinder and larger engines emcompass the gasonline and diesel engine types available. The increase in inventory online now includes these popular engine types available for immediate purchase.
The Ford increases in company inventory at MotorUniverse.com are in combination with recent Chevrolet inventory increases. The recent Chevy announcement of Vortec and other Generation IV engines to the company inventory have helped more buyers to locate motors that can be difficult to purchase through offline distributors. This company has expanded these two brands as part of a recent effort to include more preowned engines for vehicles produced within the past two decades.
The installation of the company quote system is now helping more buyers receive pricing at the touch of a button. This quote system is now more powerful and includes immediate delivery of pricing. Because the system is attached with the current company inventory, pricing remains accurate and delivery schedules remain on time after orders are placed. This way of delivering quotes is now exlcusive to this company online.
About MotorUniverse.com
The MotorUniverse.com company supplies preowned automobile engines for prices discounted below retail. The acquisition team working directly for this company is responsible for the complete inventory now available for sale. This buying staff locates low mileage engine inventory from top distribution companies in North America. The MotorUniverse.com company now supplies warranty coverage protection with all sales made from the company website or toll-free telephone number. The inventory upgrades that have been recently announced by the company are one way that company revenues have been expanded in the current year.