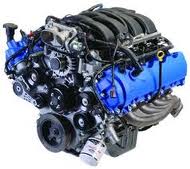 The cost of a used engine has decreased in the last 10 years due to higher competition and Internet sales.
Dallas, Texas (PRWEB) August 25, 2012
Used Ford engines for sale online can be purchased at just about any auction or classified website. There are thousands of buyers around the U.S. each day that purchase engines from the Internet. The used engine business is growing for a lot of companies and one company, UsedEngines.co, has decided to increase its customer satisfaction by dyno testing all used engines. A dyno test is one of the most accurate ways to prove that the engine specs are correct before an engine is sold to the public. As of August 2012, all used Ford engines for sale including Mercury and Lincoln are now dyno tested at UsedEngines.co. More information can be obtained by going straight to the Ford engine section of the UsedEngines.co website at this link http://www.usedengines.co/ford-engines/ford-engines-sale.
The Ford Motor Company owns its Ford line of vehicles, Lincoln and the now defunct Mercury. Used car owners have traditionally had to depend on dealerships for servicing engine problems and issues that result from age and standard engine wear and tear. The acceptance of engine sellers on websites like eBay and Craigslist has helped open up more opportunities to distribute engines to all parts of the U.S. without the need for a website.
Junkyards and salvage companies are two examples of industries that are now thriving thanks in part to used engine sales from retailers like UsedEngines.co. Sales of used vehicles have grown tremendously in the past five years due to the uncertain economic conditions that are evident in all states. Vehicle owners now have a choice to replace an engine instead of constantly fixing one that is nearing the end of its natural lifespan. The cost of a used engine has decreased in the last 10 years due to higher competition and Internet sales.
The standard warranty in the automotive industry is 30,000 miles for a brand new engine. This amount of mileage coverage is not feasible for many used engine dealers due to the fact that used engines traditionally have higher mileage. Online engine dealers like UsedEngines.co that have the ability to dyno test engines can help prove the mileage that is on an engine block. This data is useful to both the seller and the buyer when it comes to estimating the life expectancy of a used engine.
The Ford engines inventory that is now in stock at the UsedEngines.co website grows on a weekly basis. Both classic and late model engines are purchased, evaluated and offered for sale to engine buyers that appreciate a larger than average warehouse inventory. The used engine industry is expected to continue to grow over the next decade and companies that are able to diversify and create more customer satisfaction should be able to increase annual sales. 
About UsedEngines.co
UsedEngines.co supplies used engines to drivers, mechanics, warranty companies and body shops in all 50 U.S. states. These engine experts locate and purchase used engines that are graded on a quality scale before being sold. The new investment in dyno testing for this engine retailer is expected to increase Ford engine sales by as much as 20 percent. The extra assurance that UsedEngines.co now gives to all of its customers is helping to make this engine retailer a leading supplier of used engines online.