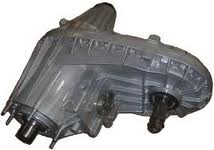 A new two-year protection policy is provided as an extra level of customer assurance.
Big Bear Lake, California (PRWEB) June 07, 2013
The F-Series pickup trucks produced by Ford are created with intelligently designed 4x4 systems that require specific parts when replacements are needed. The TransferCasesforSale.com company is now supplying buyers with better parts protection when purchases are made from its used Ford F350 transfer case inventory online at http://www.transfercasesforsale.com/ford-f350-transfer-case. These cases are evaluated before order processing and shipment to maintain the quality implied upon fulfillment. A new two-year protection policy is provided as an extra level of customer assurance.
The 4WD components that are produced in modern auto engineering include manual and computer guided controls. The automatic overdrive and all-wheel drive capability of vehicles in the Ford lineup has helped produce more interest in off-road vehicles. The maintenance that is required to keep drive train systems in operational order can be difficult for owners of pickup trucks to complete without essential parts.
The case assemblies that are offered for the F350 series trucks online are one way that the Transfer Cases for Sale Co. is using to create more parts variety for owners of vehicles. The parts now listed for direct sale are lowered in overall price.
A new group of suppliers are part of the distribution companies that are used to fill up the inventory that is listed on the company website. These suppliers represent more than one area of the U.S. and are making it easier for the the TransferCasesforSale.com company to conduct business in more parts of the country. As a result of these supply arrangements, a new system to produce company pricing is now available for use online.
This new tool provides the foundation for a price quote online. The year of a transfer case and its make can be entered into the new system for an instantly displayed price. This system for producing quotes online is designed to assist with parts research.
The extension of warranties and faster quote processing are two of the recent changes made to benefit buyers this year. The policies for shipment were changed late last year to experiment with new freight companies and offers. The free shipment of case assemblies was announced to the public and the support for this measure helped to extend the terms this year.
The news release at http://www.chron.com/business/press-releases/article/Transfer-Cases-for-Sale-Co-Extends-No-Charge-4325273.php was used to announce the extension of the shipment terms for an indefinite period. These measures have proven successful for this company for online and offline sales volume this year.
About TransferCasesforSale.com
The TransferCasesforSale.com company provides its used and reconditioned case assemblies for discounted prices online. This company acquires its units from trusted sources in the auto industry and provides direct access to inventory listed online. The measures undertaken by this company to improve the quality of its case assemblies this year includes different levels of testing. The TransferCasesforSale.com company has built one of the largest resources shared on the Internet for replacement parts. The low pricing that is maintained is made possible due to the strength of the distribution partnerships and other third party contracts for shipments in place.