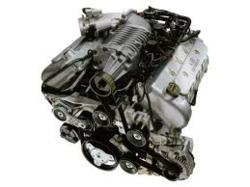 These engines include some of the most requested builds in the Ford family like the 302, 289 and 351 motors.
Oklahoma City, Oklahoma (PRWEB) June 06, 2013
Replacement vehicle engines are used by more than mechanics and automobile owners. Builders of project vehicles and restoration companies depend on reliable motors. The EnginesforSale.org company supplies a growing lineup of preowned motors on the Internet and is now selling performance motors. This company has added used Ford performance engines at http://enginesforsale.org/ford/used-ford-engines-sale. These engines include some of the most requested builds in the Ford family like the 302, 289 and 351 motors. Individual pricing for each performance type in stock and shipment information is available online.
Engine builders supply portions of the auto industry with replacement motors to provide both current and vintage types for installations. One drawback to relying on builders is the access that is required for purchase. Many companies have trade industry agreements that allow sales only to authorized dealers. This can make locating motors for a reduced price more difficult for buyers.
The Engines for Sale Co. is helping to eliminate the issues that can happen during the engine research process by discounting its lineup of motors. The Ford performance motors now listed online are in comparison with standard issue motors in stock.
By streamlining the research process, this company has been able to increase its price delivery system online. The traditional way of obtaining engine prices was to use a dedicated phone number to receive personal assistance. Offline quote processing is still used by some retailers. The EnginesforSale.org company quote system is now in place and used daily online by engine buyers.
This delivery method for pricing is able to search the company database for exact engine matches. Matches that are found are quoted from multiple suppliers. This expansion of the quotes process online is now taking away the need for offline processing.
The performance engines now listed in the database online are in addition to Ford Ranger motors that were announced this year. The addition of the 2.3, 4.0 and other popular types has made it easier for buyers to find Ford replacement engines. The news release published at http://www.prweb.com/releases/ford-ranger-engines/used-ford-engines/prweb10438115.htm was the announcement made to help buyers search the company system for Ranger motors. These Ford expansions of inventory are possible due to the arrangements made with new suppliers of preowned motors. The company discount pricing remains in place for all online and telephone processed orders.
About EnginesforSale.org
The EnginesforSale.org company gives access to engine buyers to its growing database of preowned motors in stock. This company has negotiated better supply agreements with companies distributing engines around the country. The result of these agreements has created a much larger database of preowned Ford, Chevy, Dodge, Jeep, Toyota and Honda motors. The EnginesforSale.org company updates its customers through regular contact to announce sale pricing and other terms that help to make replacing motors more affordable. Policy changes have helped this company to secure parts warranties for all sales as well as shipment cost reductions this year.