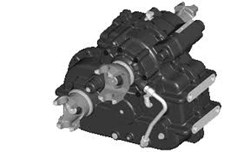 The TransferCasesforSale.com website stocks and sells the Borg Warner series case assemblies in used condition.
Baltimore, Maryland (PRWEB) October 08, 2012
Used Ford Ranger transfer case inventory has been lowered in price by the Transfer Cases for Sale company. This special price incentive is effective immediately and is designed for the BW1350 and BW1354 transfer case series that was used inside of the Ford Ranger. These transfer case units are in used condition and checked thoroughly by mechanics before they are sent out from the TransferCasesforSale.com website warehouse. More information about the in stock inventory for Ford can be found at this link http://www.transfercasesforsale.com/ford-ranger-transfer-case.
The Ford Ranger is one of Ford's best selling pickup trucks. This vehicle received strong sales through the 1980s, 1990s and into the 2000s. The small-size pickup truck market has had its share of competition and one thing that Ford did differently was outsource some of its most in-demand parts. Companies like Borg Warner were selected to manufacture the transfer cases that were used in many of the four-wheel and all-wheel drive vehicles like the Ranger.
The TransferCasesforSale.com website stocks and sells the Borg Warner series case assemblies in used condition.
Leaking fluid is one of the reasons that someone would need to change out a transfer case. The fluid inside of these auto parts is useful for compression as well as lubrication for the gearing mechanism. The changeover that takes place from standard gearing to four-wheel or all-wheel drive is controlled by the transfer case. Auto mechanics, body shops and some junkyards are examples of the types of customers that purchase transfer cases online and offline.
A new type of transfer case is offered as an alternative to one that is in used condition. Like engines in the auto engine industry, rebuilt or recertified parts are becoming more popular as these parts can be similar in functionality to new ones. One difference is the price comparison between rebuilt and used parts. The rebuilt parts must be cleaned and constructed with brand new parts before they are certified as remanufactured.
The TransferCasesforSale.com website sells used and rebuilt transfer cases to offer both versions to its customers online.
Testing is one of the most essential procedures in the used auto parts industry. Parts that go untested are likely to be lower in quality than those that are certified as used. The intricate gearing that is inside of a transfer case often requires manual and computer testing to verify compression ratios and that proper spinning of the gears is correct.
The TransferCasesforSale.com website now spin tests each of its transfer cases that it offers for sale to assure customers that the used transfer cases are working according to OEM specs.
About Transfer Cases for Sale
Ford, Chevrolet, Dodge, Toyota and Isuzu transfer cases are some of the inventory that has helped the Transfer Cases for Sale company to grow as an e-commerce retailer. The transfer case plays an big role in the functionality of four-wheel drive and all-wheel drive vehicles and the Transfer Cases for Sale company was one of the first companies to sell these to consumers online. Online sales growth has been achieved by this retailer due in part to its lower than average auto parts pricing and its expertly trained customer service staff. New testing and evaluation procedures are now helping Transfer Cases for Sale to keep quality at the highest levels possible.