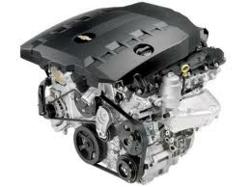 These OEM units are now able to be shipped to all destinations in the U.S.
Philadelphia, PA (PRWEB) April 26, 2013
GMC has remained a separate portion of the General Motors company for decades. This SUV and pickup truck brand has gained fame worldwide due to the quality of its builds. The AutoEnginesforSale.com company is a leader in preowned auto engine sales and has now added used GMC engines online. These OEM units are now able to be shipped to all destinations in the U.S. and orders can be placed online at autoenginesforsale.com.
General Motors has been recognized for decades as the largest producer of vehicles, engines, transmissions and other auto parts in North America. The growing number of auto parts supply companies and engineering facilities specializing in GMC parts has helped fuel the secondary automotive industry.
The preowned engines industry often varies in price and quality due to rising numbers of sellers. The motors that are now available for sale online are priced lower than average retailers.
The AutoEnginesforSale.com company has developed a sophisticated system for producing pricing online this year. The launch of the company website has given way to a better system that customers can use to conduct research online.
This new price distribution system is now installed on the company website for use. Customers get access to this system 365 days a year and can compare pricing from this company and other distributors in North America. These efforts are helping to create more competition for retailers online.
Aside from the company changes online, offline changes have taken place at this company. The warranties that were supplied with all engine shipments to customers in the past have recently been updated. An in-depth review of the company policies has created an extended warranty time frame. This new extension of coverage is one method in use by this company to offer the longevity that many buyers seek after an installed preowned motor is in use. More company announcements are expected to be distributed as they happen this year.
About AutoEnginesforSale.com
The AutoEnginesforSale.com company leads the online and offline secondary market engines industry due to its national distribution and lower than average prices. This company currently supplies thousands of engines each year to buyers in all parts of the United States. The hard work put into making this company a competitor in the engines industry has now paid off with increased sales this year. The AutoEnginesforSale.com company specialists assist each engine buyer with price quotes, engine quality information and same day shipments when orders are processed to keep customer service levels higher.