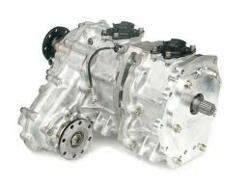 One of the issues that owners of vehicles have is the maintenance of a preowned vehicle out of warranty.
Seattle, Washington (PRWEB) January 12, 2013
The GMC brand of trucks and SUVs remains popular in the automotive industry. One of the essential parts of these 4x4 vehicles is the correct gearing for the 4WD or AWD units. The TransferCasesforSale.com company is now offering used GMC transfer cases for sale with an extension of the parts warranty. This new term of coverage is expected to help owners of vehicles as well as companies that service the 4x4 systems. The new warranties and stock information can be found online at http://www.transfercasesforsale.com.
The General Motors brand of vehicles has helped to pioneer consumer interest in all-wheel drive and 4-wheel drive SUVs and pickup trucks. The development of components, engineering of engines and other important assemblies has helped to create a higher standard of quality for GM. One of the issues that owners of vehicles have is the maintenance of a preowned vehicle out of warranty. It can be difficult to find a suitable replacement assembly for a worn transfer case online.
The TransferCasesforSale.com company is one of the leading suppliers of these assemblies online and sells its inventory to vehicle owners, mechanics, warranty service centers and others replacing these units in trucks and SUVs. The addition of the GMC lineup is part of an expansion that includes Ford and various Chevrolet cases.
Several new improvements have taken place offline apart from the new inventory additions at this company. The sale of used units represents only a portion of the sales that are made each year. The rebuilt editions are ones that are reconditioned to function like a new unit. This remanufacturing process takes an investment into technology and engineering to create OEM quality rebuilds. A new spin testing program was announced in the fall of last year to help provide one extra level of support for buyers of reconditioned assemblies.
The success of this testing program has now made it a permanent addition to the company policies. All in stock units that are in rebuilt condition are spin tested for accuracy. The preowned units are also reviewed for quality to ensure that all of the company inventory meets the highest quality control standards. The news announcement for the spin testing launch can be found at this link online http://www.prweb.com/releases/rebuilt-transfer-cases-/now-spin-tested-for-sale/prweb10146998.htm.
About Transfer Cases for Sale
The Transfer Cases for Sale company is one of few retailers online that exclusively sell used and rebuilt case assemblies to the public and to business clients. This company has innovated since its start online in 2009. By upgrading equipment and technologies used, this company is now able to raise the customer quality standards and output OEM units for affordable prices. The Transfer Cases for Sale company supplies parts warranties as well as no cost shipping incentives to help provide buyer assurance to those purchasing units online. Telephone and online price quotations are administered by company experts online and offline.