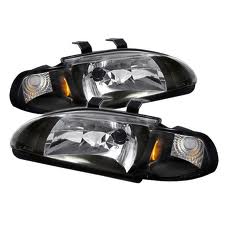 Because these are produced strictly by Honda, locating replacements is one challenge buyers go through when planning a purchase.
Orlando, FL (PRWEB) May 31, 2013
Import automakers like Honda produce parts for resale to the public. Parts buyers must make the decision where to purchase depending on their budget. The AutoProsUSA.com company is a discount auto parts superstore online and is now providing Honda discounts. This company has lowered the cost of all used Honda Civic headlight replacement inventory. These changes are helping buyers to save money replacing bulbs or headlight assemblies. The new pricing and inventory stock status offered can be browsed online at http://autoprosusa.com/honda-civic-headlights-sale.
The 2000 through 2010 production of the Honda Civic included different types of headlights depending on the trim style selected for each vehicle. The use of standard clear lenses and halo lights were offered to buyers. Because these are produced strictly by Honda, locating replacements is one challenge buyers go through when planning a purchase.
Not all retailers are able to locate factory assemblies and accessories that are required for proper installation. The Auto Pros company sources its parts from suppliers and distributes preowned factory parts to provide a better resource to parts buyers online. These measures apply to the complete inventory for sale.
Price drops now announced for the JDM inventory are in addition to changes to the company system for orders. Two different methods are now used to distribute information to buyers and process orders. The company toll-free number has been changed to reflect better customer service for all buyers in the U.S. Company specialists provide customer service when buyers use the new 1-888-230-1731 number. The online system now provides price quotes and information for parts in stock. These changes are attributed to a recent sales volume increases year.
The parts supplier network created by this company has been added to this year to build a larger distribution system for parts buyers. The Auto Pros agreements with top suppliers has created more available inventory for hard to find parts. Cities like Dallas, San Diego, Chicago and Jacksonville were recently included in the available distribution.
The news release at http://www.prweb.com/releases/used-auto-parts/jacksonville-fl-vendors/prweb10654382.htm was used educate the public about the new company partnerships secured in 2013. All suppliers added to the company network are now evaluated for parts quality and low price availability before addition to the company database of parts online.
New suppliers interested in listing parts through the company database can make contact with this company using the updated address information available at:
Auto Pros USA
1270 Crabb River Rd.
‪Richmond, TX 77469
(888) 230-1731
(713) 560-7017
About AutoProsUSA.com
The AutoProsUSA.com company provides thousands of domestic foreign produced auto parts to buyers on the Internet at lower than MSRP prices. This company is one of few secondary sellers providing better discounts and inventory levels to the general public. The parts are listed in the company database are fulfilled upon order by trusted parts distributors. These connections have helped the AutoProsUSA.com company to build longer lasting relationships to build a larger customer base. Inclusions like parts warranty protection and same day order processing are provided to buyers using this parts company as a supplier in North America.