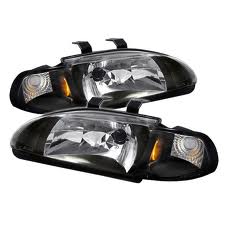 One drawback to using these OEM components is the traditionally higher than average retail pricing that some dealerships charge.
San Diego, California (PRWEB) May 18, 2013
The Honda Civic is one of the best-selling vehicles created by Honda over the past 25 years. This vehicle has been offered in multiple styles to the buying public and locating replacement parts could be a difficult process for some buyers due to inventory shortages. The AutoProsUSA.com company sells preowned auto parts online and has now added used Honda Civic headlights to its inventory. These lights and assemblies are now discounted to prices under MSRP to help buyers find affordable replacements. These parts can be researched and prices quoted online at http://autoprosusa.com/honda-civic-headlights-sale.
Exterior parts creation is one method used by automakers to supply the buying public with genuine parts for sale. These OEM parts are often treasured by buyers who are searching for a way to install genuine parts on automobiles. One drawback to using these OEM components is the traditionally higher than average retail pricing that some dealerships charge.
The replacement parts that are offered by the Auto Pros company are genuine parts that are sold in preowned editions to help make installations less expensive. These used parts are acquired from multiple sources to ensure parts remain the highest quality.
The discounts and frequent incentives that are promoted by this company are one effort underway to help build a larger network of parts buyers in the U.S. Developments made to the company website have now made it possible for buyers to receive immediate price quote requests. The new AutoProsUSA.com quote system is able to search the company inventory and return an accurate price. These prices can be selected and reviewed by those researching and comparing pricing before making a purchase. Regular updates and modifications are made to this quote system to speed up the search and ordering process.
New informative materials have been created to help buyers learn about the company inventory and offerings online. Aside from the website pages and tools offered, new videos have been created for most of the company parts in stock. These videos are now one way that buyers can choose to learn more about the company pricing models, parts quality and how to place parts orders. These videos can be accessed online at http://www.youtube.com/watch?v=ANvqtRzHsGs and are expected to continue to offer a better resource for parts buyers on the Internet.
Parts buyers can make contact with this company online or offline using the following information:
Auto Pros USA
1270 Crabb River Rd.
‪Richmond, TX 77469
(888) 230-1731
(713) 560-7017
About AutoProsUSA.com
The AutoProsUSA.com company created its used auto parts superstore to provide easier methods for parts buyers to use to locate thousands of available parts sold under retail pricing. The online database offered by this company is updated daily and includes import an domestic parts types for modern and classic vehicles. The company support staff offers assistance online and through a dedicated toll-free phone number. The AutoProsUSA.com company ensures that all customers receive prompt shipments and additional incentives that are created and launched by this company each year. Regular website updates and changes are made to enhance the buying experience for current customers.