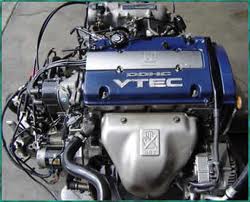 The UsedEngines.co website sells Honda and Acura engines to customers that include dealerships, body shops and junkyards in North America.
Miami, Florida (PRWEB) September 12, 2012
Used Honda engines are one engine type that is imported for sale in the United States. These engines have grown in popularity due to the relatively low mileage that is included with these Japanese produced engines. The high emissions standards in Japan are the reason these engines are exported to countries like the U.S. that can benefit from engines with low mileage in the preowned engines market. The UsedEngines.co website is now importing these engines and is now shipping these used Honda engines for sale free of charge to U.S. buyers. This effort is designed to bring these low mileage engines to more engine buyers without the traditional high cost of shipments buying imported engines. More information about the in stock engines can be found by following this link http://www.usedengines.co/honda/honda-engines-sale.
Honda has increased its sales of vehicles in the U.S. and Canada in part because of stronger marketing and dealer import contracts. Honda has overtaken Chrysler several times in the last few years as the number three automaker. The sales of new vehicles just six years ago are now helping to expand the used car market. Used car dealerships are able to sell quality Honda vehicles for a discounted price. It is the sales that are made by these dealerships that are helping used engine sellers online to expand into new territories. The UsedEngines.co website sells Honda and Acura engines to customers that include dealerships, body shops and junkyards in North America.
The strong sales of the Civic and Integra helped Honda reach new sales heights in the early 1990s that carried through to the 2000s. It is the sales revenue from these vehicles that helped Honda expand into crossover SUV styles of vehicles that are now one of the leading vehicles in the Honda lineup. Some body shops in the U.S. are unable to purchase Honda engines for cars or crossover SUVs because of the higher cost to import the engines. This is combined with the training that is generally required to work on foreign produced engines that use different technologies.
Companies like UsedEngines.co are helping small body shop owners that cannot afford to invest in large inventory or training programs to find a suitable used Honda engine for a discounted price.
The recent change to a free shipping model at UsedEngines.co was implemented to help combat the rising rates of freight companies that ship heavy merchandise like automobile, truck and SUV engines. This incentive for used engine buyers is expected to remain in effect and will apply to all incoming used engines that are ordered by customers.
About UsedEngines.co
By importing foreign engines and supplying domestic ones, UsedEngines.co has been able to build a customer base of thousands across the United States. A team of used engine experts owns and operates this 21st century engine company and by offering lower than retail prices small business owners are now benefiting from these competitive prices. The UsedEngines.co inventory is built up daily and now includes engines from Ford, Chevrolet, Chrysler, Plymouth, Honda, Toyota and Dodge. The UsedEngines.co staff now mechanically evaluates every engine before it is shipped to ensure high quality and customer satisfaction.