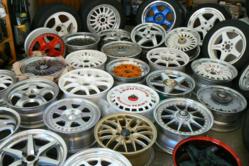 A lowered list price is now attached with all sales that are sourced from this company online.
Cleveland, Ohio (PRWEB) June 07, 2013
The replacement parts and accessories that are available for American made cars can be found sold through standard auto parts stores. Import vehicle owners can struggle to locate interior and exterior parts due to shortages of available sources. The AutoProsUSA.com company is now expanding its JDM inventory online and has added used JDM wheels at http://autoprosusa.com/honda-oem-parts-for-sale. These parts are designed to fit onto Honda, Nissan, Toyota and other import automobiles. A lowered list price is now attached with all sales that are sourced from this company online.
Import wheels and rims can be produced by automakers as well as third party licensed companies. Aftermarket parts now make up a large percentage of JDM availability. A buyer searching for genuine replacements can have difficulties due to lack of dealers able to import select auto parts for interior or exterior usage. The Auto Pros inventory of wheels now available seeks to offer the options that are hard to locate using auction companies or other sources online.
Part suppliers now work closely with this company to produce better pricing and availability for JDM parts and accessories represented in the inventory online. New videos posted online are now used introduce buyers to some of the newer parts that are added due to the growing supplier network. A sample video can now be found at this website http://www.youtube.com/watch?v=kvPM-im2AwU.
Parts that are purchased from preowned retailers can be paired with a level of caution depending on the source. Exterior parts could have excessive wear and tear or other issues that could prevent a successful installation. Changes made this year to policies put in place by the AutoProsUSA.com company have made it possible for buyers searching the secondary market to find better condition used parts for sale.
Policies for basic levels of warranty protection are now in place for each part ordered online or through the company contact number. This additional protection is offered without charge and each order fulfillment includes a specific length of coverage.
The wheels and additional parts and accessories added to the import section of the company database are helping to improve the selections that can be made for purchase. The news announcement made at http://www.prweb.com/releases/used-civic-si-parts/used-honda-parts/prweb10764299.htm provided information about Honda parts additions added.
The Honda inventory now searchable inside the database online is expected to provide vintage and newer parts at lower than standard retailer prices. The company acquisitions for Nissan, Toyota and Mitsubishi parts are scheduled to continue as demand remains strong for parts replacements.
About AutoProsUSA.com
The AutoProsUSA.com company helps to connect parts buyers with available used parts at greatly reduced pricing on the Internet. This company supplies JDM and domestic built parts ready for car installations in the United States. Distribution companies and local or regional suppliers are now working closely with company management to supply parts to more consumers. Better research methods have been introduced by the AutoProsUSA.com company this year. All buyers now using the company tools published on the company website receive access to the updated inventory and price structures announced each day.