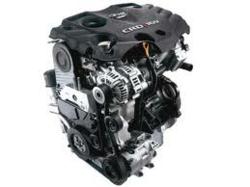 The replacements that are now sold online are expected to provide a solution for those that require a motor in good condition.
Hartford, Connecticut (PRWEB) January 06, 2013
The UsedEngines.co company has added used Kia engines for sale online. This new addition to the Internet section of this company is a move designed to help car owners. The secondary market editions that are sold from auction websites or classified adds often do not include foreign imports. These Kia imports are expected to provide a fresh resource online for mechanics and other car owners to find secondary import motors. More information can be found at http://www.usedengines.co/kia/kia-sephia-engines.
Hyundai owns the Kia brand and this company is the second largest Korean automaker. This brand of cars was first imported in the U.S. in the early 1990s and has now expanded to include SUVs. While dealerships do exist to service these imported vehicles, service for a preowned motor can be hard to come by for a car owner. The replacements that are now sold online are expected to provide a solution for those that require a motor in good condition.
New distribution agreements by the UsedEngines.co company have helped this retailer to revamp its warranty terms. Obtaining a warranty for a secondary market motor can be challenging for those that do not have a respected source to purchase from online. High mileage on an engine is one of the drawbacks to obtaining one for replacement. The new warranty services enacted by this company are designed to provide a limited time parts protection coverage to buyers.
The addition of the Kia brand is part of a larger inventory restructuring that has taken place offline. The fall of 2012 marked the start of these changes. The domestic and foreign inventories are now added to on a monthly basis to allow more buyers the opportunity to find new or hard to find motors. Through imports and other purchase methods, this inventory is now helping to provide more options for buyers. The announcement of the first phase of these improvements can be found online at http://www.prweb.com/releases/used-engines-for-sale/website-domestic-imports/prweb10010071.htm.
The integration of a brand new price delivery system is expected to help display pricing for these new additions faster. Those that request pricing before or after business hours have ended can use this new delivery system online. The entire company inventory is available for search and important information is included with each price distribution to help educate new and existing customers.
About Used Engines Co.
The Used Engines Co. provides one of the largest preowned motor inventories that can be found on the Internet. This company has acquired distribution contracts with top companies in order to provide fast and reliable service to the automotive industry and to car owners. Through price incentives and no cost shipping services, this company has been able to increase its annual sales volume. The Used Engines Co. is staffed by experts in the auto industry to help assist customers and to ensure that all shipped motors are delivered safely and in the condition that was described before purchase. The growth experienced in 2012 is expected to increase in the 2013 for this company.