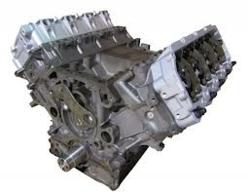 The blocks that are offered are in addition to other interior parts to help buyers complete nearly any restoration project.
St. Louis, Missouri (PRWEB) June 05, 2013
Restoring engines is part hobby for some men and women and a business for others. The types of motors that are produced by automakers provides the variety that refurbished engine builders rely upon to produce like new units. The AutoProsUSA.com company is a leading supplier of auto parts online. This company has now added used long block engine assembly inventory. These blocks represent GM and other types that can be purchased for a discounted price at http://autoprosusa.com/used-vortec-350-engine-for-sale. Pricing from multiple suppliers is also available.
Current or classic car restoration requires a series of replacement parts. Automotive dealerships are one example of a supply company able to provide OEM edition parts to buyers. One drawback to using these companies is the suggested retail list price is not always discounted. A person restoring a complete V6 or V8 engine could be disadvantaged by the high cost to reproduce an engine to like new condition.
The used and salvage engine blocks that are now provided by the Auto Pros company are designed to lower the cost of restoring and replacing a motor. The blocks that are offered are in addition to other interior parts to help buyers complete nearly any restoration project.
Pricing is now managed on the company website by the quote tool now installed. This tool provides a two-step process to receive stock information and pricing. The criteria used to begin each parts search requires the year and make of each part. When a match is found in the company quote tool, pricing information is offered from multiple suppliers.
Because the AutoProsUSA.com company uses more than one supply company, the number of quotes that are returned for a particular part could be higher or lower. Buyers now compare pricing in one centralized location instead of performing online or offline research with more than one retailer.
The new parts quotation system online is one of many upgrades that have been placed onto the company website this year. A new series of helpful videos are now published on the website as well as a new YouTube channel. These videos are now used as an additional effort to supply helpful information about parts and how to place orders.
These videos now serve as a way that information can be acquired on the company website and away from the site. New videos are created and published consistently and one of the latest types can be found at http://www.youtube.com/watch?v=mgbmKlKXKmQ. This process of consumer education is scheduled to remain in place this year.
Salvage companies, junkyards or parts suppliers interested in being listed in the company database can make formal requests to the following:
Auto Pros USA
1270 Crabb River Rd.
‪Richmond, TX 77469
888-230-1731
713-560-7017
About AutoProsUSA.com
The AutoProsUSA.com company works closely with its suppliers to provide excellent condition parts that are preowned for sale to the public. The company website serves two purposes for parts buyers in the U.S. As an informational resource, the company website provides helpful parts information and other data that is useful to buyers researching data. As a parts locator service, the company database helps connect buyers with suppliers that have in stock parts ready for shipment. The AutoProsUSA.com company updates all of the data it presents to consumers each day to provide more accurate parts research.