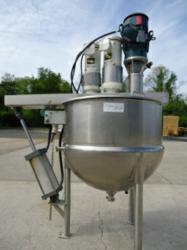 We are so lucky to find this stainless steel mixer in such good condition. We know this used machine will make a perfect addition for someone's business.
Bohemia, NY (PRWEB) May 24, 2012
Wohl Associates, a leading dealer in used processing and packaging Machinery, offers quality pre-owned equipment and exceptional customer service to its industrial and manufacturing customers. Wohl Associates has recently procured a 100 Gallon Lee Stainless Steel Jacketed Twin Action Kettle with Homogenizing Mixer to its inventory of used machinery, packaging and processing equipment. Wohl Associates is a leading dealer of pre-owned surplus machinery for all industries. They purchase individual machines and sometimes complete lines of used machinery and sell them to other businesses at affordable prices.
Wohl Associates constantly invests in their inventory to ensure the largest selection of used equipment for food, pharmaceutical, cosmetic and chemical industries. With more than 40 years of service, Wohl Associates are proven leaders in this marketplace. Some of the major industries where the services of Wohl Associates are served are the alcohol and beverages industry, bakery, candy and confectionery, peanut butter and spice industry to name a few.
Whether a manufacturing company is looking for someone to appraise one piece of equipment or an entire plant of machines, Wohl Associates provides them with fair and accurate offers to buy that equipment. Wohl Associates specializes in appraising processing and packaging equipment for food, pharmaceutical, cosmetics as well as other leading manufacturing industries. Wohl can handle appraisals for both small and large facilities and can structure the appraisal either on an itemized equipment basis or as a general lump sum, depending on client's needs. Whether a customer needs an appraisal for insurance reasons, partnership formation or dissolution, lending or financing or for mergers or acquisition, Wohl can assist with a qualified appraisal to fit any need.
Wohl Associates is a family owned and operated business for over 40 years. Wohl Associates has earned a reputation as a trusted leader offering quality used equipment, expert customer service and invaluable knowledge in pre-owned packaging and processing machinery Industries. They take pride in maintaining long-standing relationships with customers. Wohl Associates recognizes the need to treat each customer on individual basis and are certain that customers will be rewarded with professional service and fair prices for their used equipment. To learn more, visit them at http://www.wohlassociates.com/