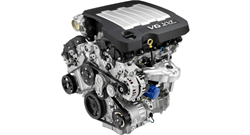 Buying auto engines for sale with a discount price attached is one of the benefits that owners of vehicles, body shops or junkyard owners will receive through our company
Pittsburgh, PA (PRWEB) December 18, 2014
The Mercury brand of the Ford Motor Company was disbanded in 2010 making most replacement vehicle parts harder to locate for car owners. The Revven company has now stocked its inventory with used Mercury auto engines for sale at discount prices this year for U.S. purchasers of car parts online.
Purchasers of vehicle motors in second hand condition will gain entry to the Revven.com portal through a new database tool. The preowned Mercury motors that are available are for regular sized vehicles, SUVs and minivans that were part of the Ford-Mercury lineup until the 2010 year.
"Buying auto engines for sale with a discount price attached is one of the benefits that owners of vehicles, body shops or junkyard owners will receive through our company," said one Revven rep.
In addition to the four-cylinder and six-cylinder used Mercury car engines, a range of Ford motors are also available to review or purchased this year. The traditional Zetec and Duratec models found in Taurus, Focus and Escort vehicles are available to buy as well as larger gasoline or diesel motors produced by Ford.
"Our portal is now active for research and includes hundreds of various engines manufactured from 1970 to the present year," said the rep.
The Revven company is an established wholesale distributor of automobile engines acquired through secondary market partnerships throughout North America. A toll-free number is available at 1-877-808-5529 to help deliver prices and inventory data to consumers every week day.
About Revven.com
The Revven.com company is one of the top portals in the United States to find discounted vehicle parts and accessories. The company specializes in preowned motors and provides a no cost shipping program for most national buyers. The Revven.com company updates consumer available inventory inside of its portal daily to make it effortless to locate modern or classic vehicle engines.