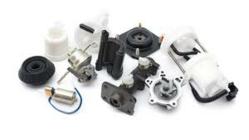 More suppliers are included in the network of companies supplying vintage and newer parts produced.
Indianapolis, Indiana (PRWEB) June 06, 2013
Audi vehicles have maintained a presence in the United States due to expansion of dealerships. Buyers locating Audi parts for replacement can find a variety of prices depending on the source used for purchase. The AutoProsUSA.com company is now one business providing used OEM Audi parts for sale to the public at http://autoprosusa.com/used-audi-car-parts-for-sale. These parts additions are now possible through better import supply agreements. These ranges of parts are available for TT, A4, A6 and RS series vehicles. The reduced price promotion now in place is scheduled to remain in effect through the rest of the year.
The performance vehicle industry now has more competition in this decade compared with previous years. Companies like Audi, Honda, Toyota, Nissan and Mitsubishi all produce a range of vehicles for the performance market. The manufacturing processes that are used by automakers usually results in replacement OEM parts inventories that are resold to the public through dealerships.
The retail pricing that is attached with most genuine parts could make parts replacement an expensive venture for vehicle owners. The addition of the Audi parts online are one cost saving method now supplied by the Auto Pros USA company to buyers.
The inclusion of Audi parts is now one change that has been made to the company parts inventory. Aside from make and model inclusions, a basic policy for warranties has been launched this month. The supply companies that are now handling the distribution and order fulfillment for parts in stock have helped this company to promote this new warranty policy.
All parts that are purchased have a range of protection that is immediately available after purchase. This protection period is up to two years from the actual date of purchase. All parts are now evaluated for condition and year of production before these are sold to the public.
The OEM parts additions this year also include Chevrolet parts in preowned condition. Different parts and components that are now for sale by the AutoProsUSA.com company has expanded the total inventory available in North America. More suppliers are included in the network of companies supplying vintage and newer parts produced. The news release online at http://www.prweb.com/releases/chevy-oem-parts/used-chevy-parts/prweb10609974.htm was the first effort made to promote the integration of the OEM Chevy parts. These genuine parts acquisition efforts are scheduled for continuance to supply more automaker types to the public.
About AutoProsUSA.com
The AutoProsUSA.com company works with trusted auto parts supply companies and distributors in the U.S. This company lists its database and parts finder online for consumers to access. The parts that are available include domestic and import units that are not usually carried through standard retail outlets. The suppliers that work closely with this company help to provide policies for warranty protection and shipment incentives that provide buyer assurance. The AutoProsUSA.com company its operated by automotive professionals and has now created its own marketing and affiliate network to boost sales for other auto companies online. This company now promotes one of the most complete parts inventories on the Internet.