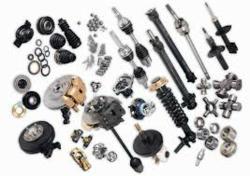 These parts are provided in the company inventory by top preowned suppliers in North America.
Salt Lake City, Utah (PRWEB) June 27, 2013
GMC has remained a separate brand from General Motors and is established in the truck and SUV market. Many of the parts that are used in production for this vehicle must be purchased through dealerships or authorized resellers. The AutoProsUSA.com company is now providing used GMC OEM parts for sale online at http://autoprosusa.com/gmc-oem-parts.
Truck owners and sport utility vehicle owners can now access these parts at lower than standard pricing. These parts are provided in the company inventory by top preowned suppliers in North America.
The General Motors company frequently updates the parts production process to ensure the latest technologies are available to consumers. Production of company used parts is now completed in the U.S. and other parts of the world. Both truck parts and SUV parts are suggested by GM to remain in OEM condition when replacements are required.
Vehicle owners now using the Auto Pros company to find parts for replacement can benefit from the current inventory now supplied as well as the lowered pricing in effect. The current price levels are expected to stay in place for the duration of 2013.
A new series of videos are now part of the marketing that is undertaken by this company this year. Instead of relying upon textual website content, streaming parts videos are now helping to provide information to the public. The company website and YouTube channel at http://www.youtube.com/watch?v=Q3Zxh_s6wUY are delivering new information about company inventory.
"We've built our consumer level database to give immediate access to in stock parts from hundreds of secondary suppliers," a source representing the Auto Pros company included. This constructed database has removed the need to use manual quote processing to determine pricing and freight costs for consumers.
This programmed database is linked with the database kept offline that holds the supplier inventory and pricing information. "The one-click system that we use returns multiple price quotes for any part in stock that is ready to ship," the source added. This method is now empowering consumers to research pricing discretely online.
The GMC preowned parts that are now ready for research or order placement online are in combination with Chevrolet OEM parts included earlier this year. The complete preowned parts inventory for Chevrolet vehicles can be searched online at http://autoprosusa.com/chevy-oem-parts-online. Many of these parts are interchangeable with the GMC brand aside from engines and transmissions. Consumers now using the Auto Pros company as a resource to find discounted parts are expected to benefit from the expanded inventory of authentic GM parts that are currently listed online.
About AutoProsUSA.com
The AutoProsUSA.com company launched its database platform for consumers to search and find used auto parts and accessories for less than retail pricing. The complete inventory now displayed on the company website is accessed through a quotation tool built earlier this year for consumers. This company created system is one of the first of its kind for buying parts from secondary sellers online. The AutoProsUSA.com company employs talented parts specialists assisting consumers online from its contact submission system. Toll-free telephone calls are now accepted during normal business hours to help consumers nationwide.