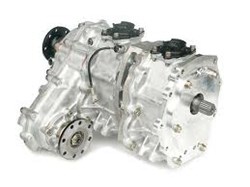 The TransferCasesforSale.com staff now visually and mechanically inspects transfer cases for customers before these are shipped.
Chicago, Illinois (PRWEB) October 02, 2012
Used Oldsmobile transfer cases are still sold online although this automaker ceased production in the early 2000s. While General Motors no longer produces Oldsmobile vehicles, the parts remain readily available by some retailers like TransferCasesforSale.com. This transfer case retailer has acquired a new selection of Oldsmobile drive train units that are complete and ready for installation. The drive train assembly or transfer case as it is commonly called is essential for four-wheel drive vehicles. Vehicles like the Bravada were popular sellers for Oldsmobile and millions of this vehicle was produced. Body shops, mechanics and vehicle owners can now search the online inventory of Oldsmobile transfer cases in stock from the TransferCasesforSale.com website at this link http://www.transfercasesforsale.com/oldsmobile-transfer-cases.
Oldsmobile ceased production in 2004 and much of the manufacturing of available parts stopped in 2007. Finding online companies that sell automotive parts for the Oldsmobile brand can be challenging for car owners and business owners that utilize Oldsmobile parts. Both Pontiac and Oldsmobile used variations of the common transfer cases that were used by General Motors.
The Transfer Cases for Sale company has now strengthened its partnerships with suppliers in the U.S. that are able to acquire a supply of Oldsmobile drive train assemblies. Buying used automotive parts from the Internet may make some people nervous about the quality, but a source from the TransferCasesforSale.com website has confirmed the condition of all in stock transfer cases.
"We're one of few companies that actually test parts before we sell them," a source from the TransferCasesforSale.com website verified. "Our supply network includes mechanics, warranty centers and body shops in the United States that depend on quality used transfer cases for customer installations and resale," the source added.
Part of the allure of buying used auto parts is the traditionally lower cost. One drawback to buying used is the amount of wear and tear that can be put on a used auto part compared with a new one. It is not uncommon for the average used car to exceed 100,000 miles. The newer manufacturing standards and innovations that have been created by automakers have helped to raise the mileage capability for automobile engines. Companies like General Motors that produced Oldsmobile have remained one of the top manufacturers of parts that can exceed the average usage specifications.
The TransferCasesforSale.com staff now visually and mechanically inspects transfer cases for customers before these are shipped. This new effort is to help raise the quality of the components that are sent out daily and to raise the assurance of customers that install these transfer cases for sale.
About Transfer Cases for Sale
By selling transfer cases for all U.S. automakers, the Transfer Cases for Sale company has been able to reach more companies and individual parts buyers online. The internal evaluations and review process that is completed by this drive train assembly retailer is one of the reasons that the quality remains high for the parts that are shipped. Mechanics from Transfer Cases for Sale independently review each component before these are sold and shipped to buyers around the U.S. These measures have helped TransferCasesforSale.com to become a popular resource online for used and rebuilt transfer case units.