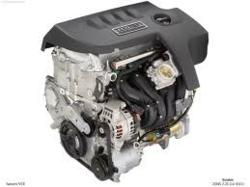 A common benchmark for a typical used engine is 30 days of warranty coverage after a purchase is completed.
Los Angeles, California (PRWEB) April 20, 2013
Plymouth vehicles remain popular on the secondary market. Because high mileage can affect any vehicle, locating replacement motors with a lower mileage count can help extend the useful life of a vehicle. The usedenginessale.com company has now added used Plymouth engines to its online inventory of motors for sale. These motors are offered for introductory low pricing and can be researched for stock information online.
The Plymouth brand represents one of the oldest in the Chrysler inventory. The 1928 introduction of this brand helped to further the development of future vehicles. The 2001 termination of this brand has caused shortages in some parts of the country for the V6 and V8 engines used to power Plymouth vehicles.
The addition of these motors online is one effort by the Used Engines Sale Co. to expand options for engine buyers.
The issuance of motors without warranty protection is one drawback for buyers purchasing from secondary market sellers. A common benchmark for a typical used engine is 30 days of warranty coverage after a purchase is completed. Because problems can happen after engines are installed, a warranty extension program is now underway designed to offer the value that cannot be found through auction engines and third party sellers online.
The UsedEnginesSale.com company has created its new price comparison tool online to help buyers conducting research. The pricing that is generated from the search tool compares company pricing as well as competing retail companies offering similar engines for sale.
This mixture of pricing is expected to eliminate the typical legwork often required through manual searches when conducting engine research through retailers. This search tool is available for immediate access 365 days a year.
About UsedEnginesSale.com
The UsedEnginesSale.com company has built its preowned engine resource to serve as an affordable way for buyers to locate classic or new engines easily. The inventory acquired by this company is checked for low mileage and condition before additions are made to the company warehouse. The generous warranty protection created and provided by the UsedEnginesSale.com company is part of a package of incentives offered to all engine buyers selecting this company for replacement motors. The company staff of experts personally assists all engine buyers online and through the toll-free company number.