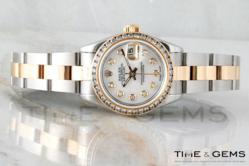 Los Angeles, California (PRWEB) April 22, 2013
Many individuals have bought different brands of luxury watches solely for investment purposes which is not a smart move because during a recession luxuries are one of the things that people have to sacrifice in order to survive and luxury watches are no exception. Nevertheless, the luxury watch market took a hit and with it the luxury watches investors, this was not, however, the case for Rolex watches. Rolex watches are among very few luxury brands that hold their value during these hard economic times. Not only does the Rolex brand tend to hold its value, in some cases the investors can even make some profit off of this smart investment. Basically if a consumer bought a Rolex watch before the recession as an investment and now they want to liquidate their asset, they can easily sell that watch and either get the original amount they paid or in some cases even make some profit. This applies to most different types of Rolex watches such as the Rolex submariner, Rolex Daytona and Rolex Datejust.
Some might ask why or how it is that this luxury brand is amongst very few luxury watches that don't lose their value and how in some cases its resale value can even increase. There is no definite answer; it could be a combination of different characteristics of this high end wrist watch that help with holding market value. Some of these characteristics include the fact that they are well known and have a global market. Perhaps the high demand in this wide market gives peace of mind to the luxury watch investors, knowing that there is always a global demand for their product.
Another factor to help this matter could be that the Rolex brand has been consistent with its prices and their high end luxury watch maker's distribution has ensured that the authorized dealers don't increase or decrease the original prices on new Rolex watches; this has been consistent throughout the years since this manufacturer was founded. This consistent retention of value could very well give composure to the investors, knowing that their asset will be of value when they need it.
Although Rolex watches can be a good investment, they can also be costly, making it hard for the watch lovers or the investors to buy watches of the Rolex brand. This is no longer an issue due to the recent used Rolex watch market; there have been many retailers and jewelers that have been specializing in buying and selling used Rolex watches. Online luxury watch retailers and virtual shops are one of many other sources which buyers can purchase their favorite watch from. These particular retailers make shopping for high-end wrist watches much easier and more accessible. One of these retailers, Time and Gems, is an ecommerce business that has been offering different kinds of used Rolex watches and other luxury brands for very affordable prices. They have been a trusted source for many investors for over a decade. From their customer service and quality of product, to very compatible prices; they make sure that they offer the best.
Time and Gems offers various deals on used Rolex watches and other brands. One of their most famous sales is their seasonal daily sale. Time and Gems shows their gratitude to their loyal clientele by picking a season and having daily sales and specials. For the lucky buyers and investors, this season has been chosen, and they can buy an already discounted Rolex watch on sale!
Today's Daily sale is: Ladies' Rolex Two-Tone Mother of Pearl Diamond Dial Beadset Bezel Oyster Band Datejust, item # 581.
Price: $5,224
Deal Of the Day: $4,963
(Bank Wire Price : $4,467)
Savings: $757
Investors should know that if today's watch is not the watch they have in mind; they can always check timeandgems.com on a daily basis because the next daily sale could possibly be the Rolex watch they are looking for. Potential customers can also always call 1-888-658-5595 to consult with Time and Gems' professional jewelers about the particular watch they have in mind.